12/24/2015
Performances and Artists
Celebrate New Year's Eve at The Smith Center with a musical extravaganza featuring Broadway hits and favorite classic songs performed by Patina Miller, Norm Lewis, Capathia Jenkins, Erich Bergen and Clint Holmes. One amazing evening. Five spectacular performers. Endless musical fireworks.
1. Performer pedigree
These performers have been nominated for every major stage award there is. Even the newest gal on the block, Patina Miller, won the Tony Award in 2013 for Best Leading Actress in a Musical for Pippin.
2. Broadway reprises
Of course we can't let these Broadway superstars not perform the show tunes that made them famous. You'll get to hear showstoppers from Les Miserables, Dreamgirls, West Side Story, Sister Act and more!
3. Hometown boy's return 
Erich Bergen once called Sin City home, having played the part of Four Seasons songwriter and singer Bob Gaudio in the Las Vegas production of Jersey Boys for years. He went on to play the same role on the Broadway national tour, and in last year's Clint Eastwood-helmed movie edition. These days, he stars opposite Tea Leoni and Bebe Neuwirth in CBS' Madam
Secretary. 4. A Madam Secretary Reunion 
Both Erich and Patina are series regulars on Madam Secretary. In our show, they're preparing an amazing duet of a Motown classic.
5. History maker in the flesh
Last year, Norm Lewis made history as The Phantom of the Opera's first African-American Phantom on Broadway.
6. "A Big Black Lady Stops The Show"
All those who know Capathia Jenkins also know that this diva can blow and blow and blow you right off this planet. Known for her roles in Newsies, Godspell and Caroline or Change, she brought the house down every night with this number from Martin Short's Fame Becomes Me.
7. There's No Place Like "Home"
Recently seen in NBC's spectacular The Wiz LIVE!, Capathia will also bring some of the standout numbers from that production to our stage.
8. The Lon Bronson All-Star Band
Our evening's performers will be backed up by the Lon Bronson All-Star Band. Known for their high-energy stage show, the band has garnered widespread critical acclaim and is the longest running band in Las Vegas history, delivering industrial strength R&B, rock, soul and funk since 1990.
9. Perfect timing
The curtain for New Year's Eve at The Smith Center will rise just after 7 p.m., which means you'll be out in time to experience the city's fireworks and Las Vegas strip festivities (or out just in time to avoid them altogether!)
10. May the odds be ever in our favor
Patina Miller made her film debut in 2014 as Commander Paylor in The Hunger Games: Mockingjay – Part 1, which she reprised her role this year for Part 2. We're expecting some behind-the-scenes tales and maybe even a little bit of "The Hanging Tree."
11. Clint Holmes 
'Nuff said.
12. Broadway In The Hood
The amazing singers from this Las Vegas community organization will help closeout our show with an inspiring number that'll uplift you right into 2016.
13. Something Scandal-ous
TV fans will recognize Norm Lewis as Senator Edison Davis on the hit show Scandal. By evening's end, you'll also recognize him as one of the best—if not the best—baritone voices on the Broadway Stage today. (That is, if you didn't already know!)
14. Something different
Let's face it—there's no shortage of activities to do in Las Vegas on New Year's Eve. But instead of the usual bottle service, nightclubs and high-roller suites, why not ring in the New Year with some Broadway?
15. Bragging rights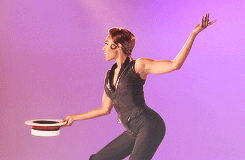 You can say, "I was there." It'll be a once-in-a-lifetime evening as the greatest stage stars of our time bring to life their greatest career moments—plus unforgettable duets and surprise moments you'll remember forever.