11/9/2018
Family Programming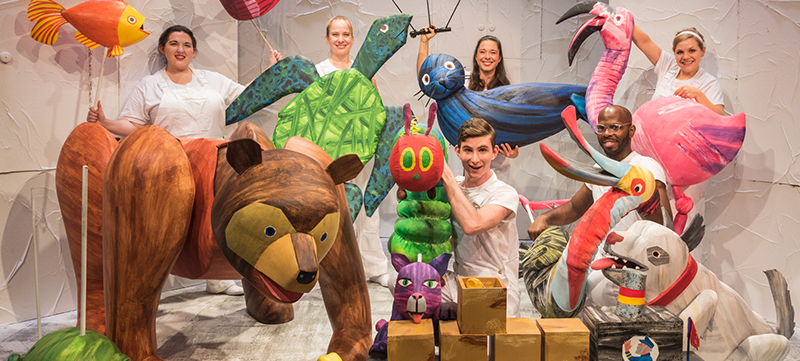 'The Very Hungry Caterpillar' Recreates Beloved Tales
When producer Jonathan Rockefeller thinks of Eric Carle's classic children's books, he instantly recalls page after page of brightly colored animal illustrations.
"That's why his books resonate so well with kids. They have an innate fascination with animals, and Carle loves telling stories about nature," Rockefeller says.
So when Rockefeller decided to adapt Carle's stories into a live theater show, "The Very Hungry Caterpillar," he knew where to start.
Puppets. Lots and lots of vibrantly colored, handcrafted puppets.
In fact, this charming family show offers a whopping total of 75 puppets, spanning pink flamingos, adorable golden ducks, an enormous brown bear – and, of course, a giant replica of the beloved caterpillar.
Just in time for the 50th anniversary of "The Very Hungry Caterpillar" book in 2019, The Smith Center will present this whimsical production on January 9.
"There's no way you can be bored during this show. You see a new puppet come on stage every 40 seconds," Rockefeller promises. "I believe in creating high-quality content for kids, so they have a really nice introduction to theater."
Four Children's Classics Come to the Stage
Rockefeller, whose entertainment career includes working as a personal assistant to acclaimed film director Baz Luhrmann, aimed for this family show to delight children and adults, alike.
"Eric Carle's books have been around teaching three generations of kids how to read," he explains. "We want to make sure the show is not dumbed down for children, that parents and grandparents and everybody are having a fantastic time."
The show brings to life four of Carle's most popular books: "Brown Bear, Brown Bear," "10 Little Rubber Ducks," "The Very Lonely Firefly" and "The Very Hungry Caterpillar."
These titles remain recognizable to many, as Carle's books have sold over 145 million copies worldwide.
A lifelong fan of Carle's books himself, Rockefeller believes everyone who has grown up with these books will enjoy seeing their literary "rock stars" brought to life.
"These characters are so iconic for everyone," he says. "We've had kids as young as 6 months come to the show, all the way up to older adults."
Working with the Legend Himself
Rockefeller felt strongly about the show's puppets and set pieces directly replicating Eric Carle's signature illustrations, iconic for their brilliant hues and almost Picasso-like structure.
To fully capture Carle's aesthetic, Rockefeller worked directly with the author himself in designing the show, including the design of the multi-colored puppets.
Directly collaborating with the "grandfather of children's books" was inspiring, Rockefeller says.
"I've always loved Eric Carle's art. It's so spectacular, this beautiful collage technique that is so simple and elegant at the same time," he says. "(Carle was) a wonderful resource. He's so humble and fun, and his art history knowledge is really something."
For children who see the show, Rockefeller is confident they will recognize every character on stage.
"They come to see their heroes on stage," he says. "It's wonderful to see their reactions."
"The Very Hungry Caterpillar" was a part of the 2018-2019 season.