5/1/2017
Community Impact / Education and Outreach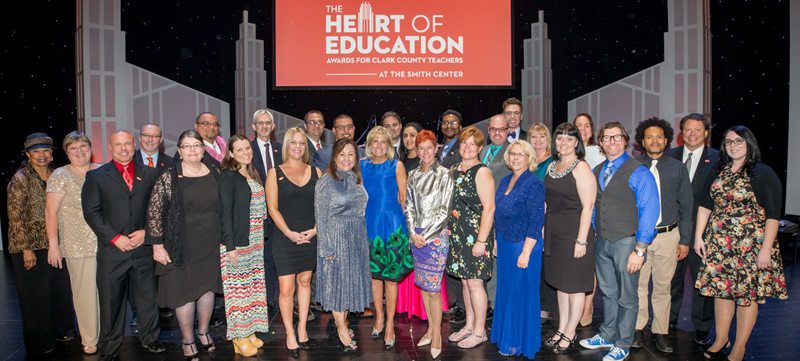 Show-stopping performances and heartwarming speeches stole the spotlight at The Smith Center's 2017 Heart of Education Awards, honoring the most outstanding teachers in Clark County School District (CCSD).
Although just 20 teachers received Heart of Education Awards, the evening celebrated all of this year's more than 900 finalists.
"We should start by saying there are no losers here tonight, except for me," declared emcee Erich Bergen – "Jersey Boys" star and actor in CBS show "Madam Secretary" – to the gathered finalists during the event. "You truly represent the best of the best."
The finalists not only enjoyed a champagne toast and performances by high-profile performers, they were also treated to a surprise keynote speaker: Dr. Jill Biden, wife of former U.S. Vice President Joe Biden and a lifelong educator herself.
Lauding teachers' many sacrifices, Dr. Biden discussed how she remained a teacher throughout her years as Second Lady, and the incredible difference educators make every day.
"During the Obama-Biden administration, I had the opportunity to meet with incredible people from around the world – artists and creators and scientists who change how we see the world, presidents and monarchs whose decisions changed millions of lives," Dr. Biden said to the full auditorium. "But when I think about the people who are truly shaping the future, I don't think about those luminaries or world leaders. I think of a room like this, full of people like you. I think of teachers."
Some of the Heart of Education Award recipients shed tears. Many spoke of their deep passion for their jobs.
It's essential to have an event like this to recognize teachers' valuable contributions, noted CCSD Superintendent Pat Skorkowsky.
"We hear your stories and we see what you do, and I see it in the schools when I come in, and it just overwhelms me," he said. "You make our kids' lives better, and take our community to the next level."
With the event powered by The Rogers Foundation, the organization's Board Chairman Beverly Rogers and President and COO Rory Reid discussed how this event heightens community awareness of hardworking teachers.
The Rogers Foundation's generous support has ensured the Heart of Education Awards will continue to honor life-changing educators for many years to come.
"We set a course, and we're going to make sure over the next many years this becomes one of the most important evenings in our community," Reid said.
The event also included the Las Vegas Review-Journal awarding four People's Choice Awards to teachers selected by a public vote, with each recipient receiving $2,500 each.
More than 20,000 people voted, said Review-Journal President and Publisher Craig Moon.
"Tonight's teachers inspire hundreds and hundreds of students every day," Moon said.
The evening also featured performances by entertainers Clint Holmes, Michael Cavenaugh, The Sound Collage and pop band Brumby, a Las Vegas band comprised entirely of CCSD graduates.
The Heart of Education Awards event will only get better every year, promised Myron Martin, Smith Center president and CEO.
"If we can change the dialogue in our community to the stories the Review-Journal does about great teaching, we'll change the way people think about what we do," he said.