4/4/2017
Performances and Artists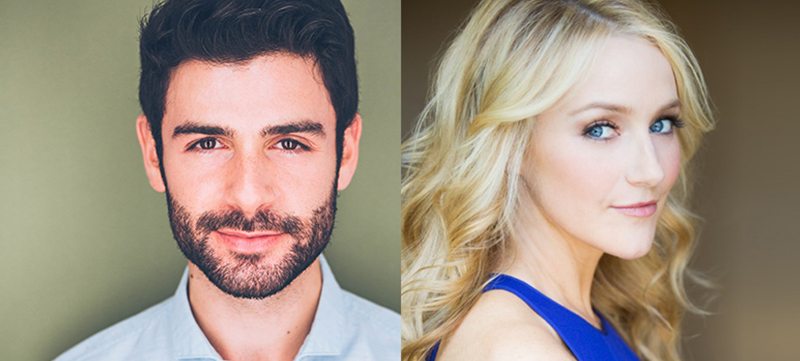 To say Broadway performers Betsy Wolfe and Adam Kantor have a Vegas connection is an understatement.
Not only did they emcee The Smith Center's 5th Anniversary Concert this March – with Wolfe even assisting Teller with a magic trick – the pair also received a glowing reception performing "The Last Five Years" at the University of Nevada, Las Vegas in 2014.
The show was even produced by Dr. Keith Boman, Las Vegas native and Smith Center Board vice chair.
"Getting the opportunity to connect with locals, especially local students at the university, was really special," says Kantor, known for Broadway shows including "Rent" and "Fiddler on the Roof." "I still get a lot of messages from students we worked with during that time."
Little did they know this performance would launch a lasting collaboration.
Following the production at UNLV, the pair has performed this show together around the world.
"Performing 'The Last Five Years' in many ways dictated the next five years for us," Kantor says. "We feel like we have a second artistic home here in Las Vegas."
This is what motivated the talented pair to return to Vegas on May 8 and 9 at Cabaret Jazz, where they will launch a new cabaret show featuring their favorite classic and modern melodies, including highlights from "The Last Five Years."
"We're going to be singing at Carnegie Hall on November 17, so Vegas audiences are going to get to see a debut of the material," says Wolfe, who has also starred in Broadway productions including "Bullets Over Broadway" opposite Zach Braff.
The show will also offer behind-the-scenes tales from Kantor and Wolfe's impressive stage careers, including their many Broadway shows and recent off-Broadway revival of "The Last Five Years."
"I have so many stories," Wolfe says with a laugh. "When you do a show eight times a week, if nothing happens to you or you don't witness something insane, I don't think you're doing it right."
Some stories are heartwarming, Kantor adds, including his memory as a cast member in the closing show of "Rent" on Broadway.
"For me it was a historic night," he recalls. "People flew in from all over the world. The street was barricaded."
Both admit they had no idea their initial Vegas performance would lead to such a lasting collaboration.
"We met the day of the poster shoot," Wolfe remembers. "It was like, 'Ok, Betsy this is Adam, Adam this is Betsy. Now throw your arms around each other and pretend to be in love.'"
That they both adapted like pros was promising, Wolfe adds.
"If two people can do that and roll with the punches, it says a lot to me," she says.
Betsy Wolfe and Adam Kantor performed in May of 2017 in Myron's Cabaret Jazz.