9/28/2017
Community Impact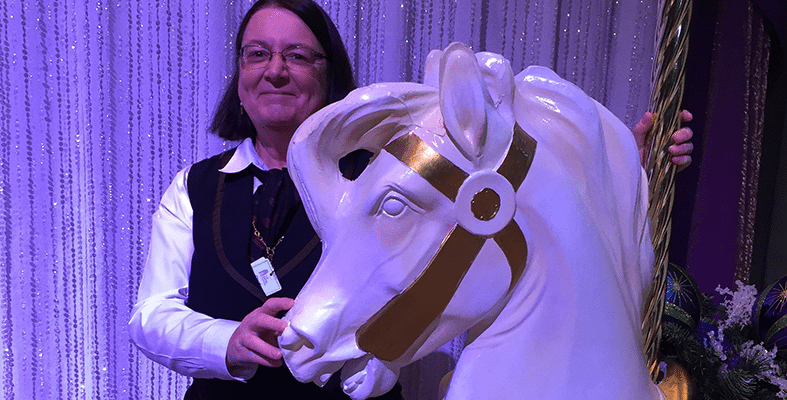 Claudia Newbury knew she had found her home for volunteering the first time she set foot in The Smith Center more than five years ago.
"I describe it when I do tours as 'a happy building,'" Newbury recalls of how she felt at that moment. "You walk in and you just smile because it's such a beautiful place, the people are so nice, and there are so many things going on."
The Las Vegas resident helps make many of The Smith Center's programs and shows possible, as one of the most active volunteers in the nonprofit's history.
Donating her time and energy with The Smith Center since before it even opened in 2012, Newbury has volunteered more than 3,000 hours with the center.
She even recently received the President's Points of Light Gold Medal for volunteering 655.50 hours over the past year, the most hours of all of The Smith Center's 155 volunteers.
"If it needs doing, I'll volunteer to do it at least once," Newbury says of the many functions she has served. "(All of the volunteer roles) are all interesting in their own way."
A Little Bit of Everything
Newbury has tallied many hours giving docent tours at The Smith Center, where she educates visitors about the nonprofit's history and services. She also often serves as a hostess at The Smith Center's Founders Room, to give donors a welcoming experience.
Many guests have likely been greeted by her cheery smile when she ushers performances at Reynolds Hall and Cabaret Jazz. She has even ushered at special events at The Smith Center, including weddings.
"I think I do a better docent tour if I've actually (volunteered in every role), because it gives me better stories to tell," she explains.
Supporting Arts Education
Newbury definitely has a favorite volunteer role: assisting throughout each year with The Smith Center's education and outreach programs.
These include ongoing student matinees The Smith Center presents for tens of thousands of local students annually. Many students who attend wouldn't otherwise have opportunities to see live theater.
"I love to tell stories about the education events, because they're so much fun," Newbury says. "The kids come in and the little ones are looking everywhere except where they're going."
These student matinees, funded by public support, fully rely on volunteer ushers like Newbury  to ensure the safety and monitoring of the hundreds to thousands of children attending each show.
The Smith Center would not be able to present these student matinees without Claudia and other volunteers regularly donating their time.
"You get high fives and hugs from kindergarteners who have never been to a theater before," she says. "It warms your heart, and you go home feeling you've actually done something worthwhile."
Supporting a Love of the Arts
Volunteering with The Smith Center was a natural fit for Newbury, who gained an early love of performing from her father, who sang barbershop for many years.
"(The arts) have always been a part of my life," Newbury says.
After retiring from the U.S. Department of Energy, she was glad to finally have time for supporting for The Smith Center and helping promote the arts in her community, she adds.
"The volunteers have a big impact at The Smith Center," she says. "Volunteering overall is a wonderful thing to be able to do."
Learn More
To learn about volunteer opportunities at The Smith Center, visit: http://www.thesmithcenter.com/support-us/volunteer/