2/27/2018
Family Programming / Community Impact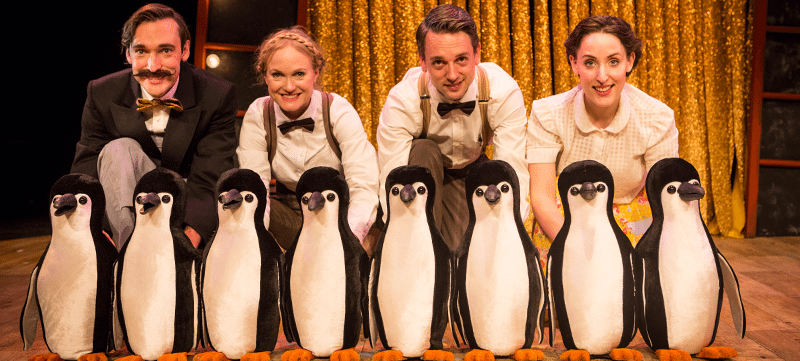 Family show 'Mr. Popper's Penguins' Brings Children's Book to Life
"So, can anybody guess how many kinds of penguins there are in the world?" Rita Botzenhardt asked in the program room at James I. Gibson Library in Henderson.
The kids seated before her eagerly peppered out guesses.
"Seven!"
"1,000!"
"It's actually 17," responded Botzenhardt, a youth services librarian. "And in Antarctica, where Mr. Popper's penguins are from, there are just four different kinds of penguins. You can read about them in the book, and you can go see the show at The Smith Center."
One thing was clear during this story time program the library hosted in mid-February.
Children still love penguins – and reading about them, too.
To engage children in reading while also raising awareness of family show "Mr. Popper's Penguins" at The Smith Center on March 14, Gibson Library hosted a special children's story hour featuring readings of penguin-themed books, including an excerpt from "Mr. Popper's Penguins."
Botzenhardt wasn't surprised by the children's enthusiasm over this beloved children's classic by Florence and Richard Atwater.
"I think all animals are just fascinating to kids. There's just the warmness of an animal, and you can personify them," she said. "And kids especially love animals they don't normally see."
A Surprising History
This year actually marks the 80th anniversary of the publication of "Mr. Popper's Penguins," Botzenhardt noted.
"I read this book when I was in school," she remembered. 
She discussed how the novel was published during the Great Depression in 1938. 
The book's optimistic storyline — about a poor house painter who eventually travels the world by creating a performing penguin show — offered a welcome release for readers during hard times, she said.
Many might be unaware the book was penned by both Richard Atwater and his wife Florence, who finished the novel after her husband fell too ill to continue.
Botzenhardt finds the book still resonates with readers of all ages today.
"Mr. Popper, he's like an everyman. All of a sudden his dreams come true and he gets what he always wanted. He never gives up," she pointed out. "Everyone wants that."
Characters Come Alive on Stage
Botzenhardt encouraged families at the story time to see "Mr. Popper's Penguins" at The Smith Center. She finds that seeing live productions based on literature can help children understand what they read.
"I think seeing any interpretation is definitely helpful," she said.
Las Vegas mother Heather who attended the program with her 9-year-old son Jace said he is always excited by stories with amusing creatures.
"He loves animals," she said. "We're from Florida and we used to have passes to the zoo there and we always went and saw the animals, including the penguins."
She finds her son is often inspired by family shows and student matinees he experiences at The Smith Center, she added.
"I think (live theater) sparks something in kids," she said. "Besides just reading the book and using their own imagination, they can see other people bring the imagination to life."
"Mr. Popper's Penguins" was a part of the 2017-2018 season.