10/31/2017
Performances and Artists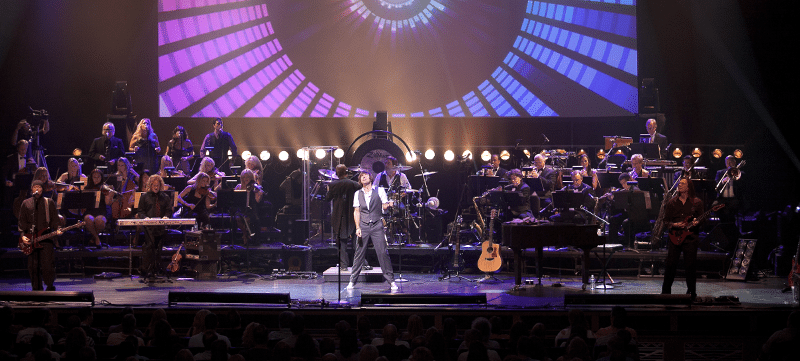 Think you've already seen Brody Dolyniuk's Symphonic Rock Show?
Think again.
The Las Vegas favorite offers a promise for his return to The Smith Center stage on December 3, when he once again unites classical with classic rock by blending a full orchestra and rock band.
He's going to take this concert up a notch.
"I'm trying to pull from everything I've learned and wow the crowd," vows Dolyniuk, a Las Vegas staple since his many years headlining beloved tribute band Yellow Brick Road. "I look at the show as two parts – the musical performance, and then a blank canvas I can paint with visually."
Amped-Up Production Value
Audiences who have attended the local star's recent concerts can attest to his full-blown success with both.
Dolyniuk has increasingly thrown himself into experimenting with lighting, multi-media projections and large-scale props on stage.
This includes his recent reimagining of Pink Floyd's The Wall concert, which included constructing a goliath wall on stage with massive projections painting the back of the stage.
"It was definitely a huge exploration of the visual arts," Dolyniuk says. "I'm going to keep expanding on that."
This new Symphonic Rock Show will play with a variety of elements like laser projections and LED lighting, he adds.
"We've brought those elements in before, but it's the never-ending challenge to keep one-upping yourself and do it bigger and better," Dolyniuk says.
Epic Song Selection
Dolyniuk still plans to deliver the same powerful classic rock anthems.
Like his popular preceding Symphony Rock Shows, this December concert will feature elaborate arrangements of epics by Led Zeppelin, Queen, The Who and more, with string, wind and horn performers enriching the rock band's fiery renditions.
"The challenge with this show is finding a healthy balance between light and dark shades, and finding music that works with the orchestra," Dolyniuk says.
He chooses the featured songs painstakingly, he adds.
"Sometimes you have to sit there and listen to a whole catalogue of songs and go, 'No, that one doesn't really work,'" he admits.
The polished, infectious end product, however, speaks to the rock shows' ongoing popularity.
"The music is already the star of the show," Dolyniuk emphasizes. "I think the added twist of having an orchestra has a heightened sense of appeal to even die-hard classic rock fans, who have never heard these songs performed this way."
Brody Dolyniuk's Symphonic Rock Show was a part of the 2017-2018 season.