6/6/2015
Education and Outreach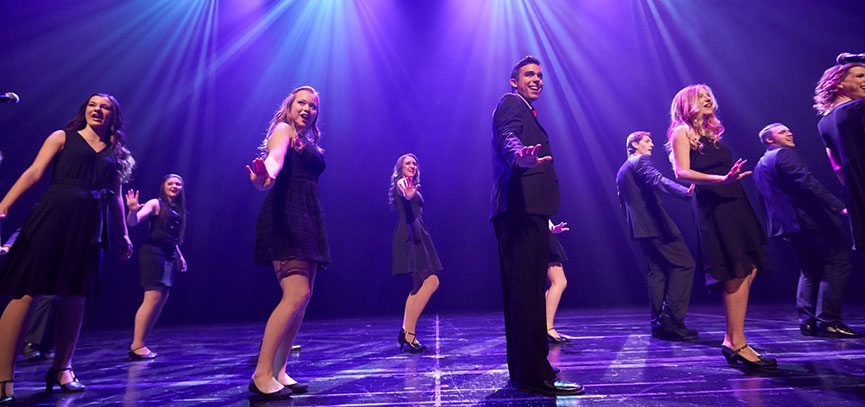 It's one of one the most wonderful annual events that take place at The Smith Center – the Nevada High School Musical Theater Awards. On Sunday, May 17, we hosted the magnificent celebration for the third time. Reynolds Hall was a sublime setting to honor the amazing talent of the Silver State's youth, the stage stars of tomorrow.
With the entertainment industry so inextricably intertwined with Nevada's economy and culture, especially in metropolitan Las Vegas, it's no surprise that many students are extremely polished performers. Starting with a group rendition of "On Broadway," twenty students each took to the spotlight to present a solo from the musical from which they were nominated. To get to this elite level of competition, the young women and men had to have played a leading role in a production at their respective high school. Even further, each contestant must have been recommended for the award by school officials. The audience was thrilled by each student's performance.
Following a rousing, ensemble-sung finale of the anthemic "Give My Regards to Broadway," the Best Actress and Best Actor winners were announced. The Dr. Keith Boman Prize for Best Actress went to Centennial High School's Courtney Neistadt, who sang "I Know It's Today" from Shrek the Musical. Las Vegas Academy of the Arts' Deylan Dean performed a rendition of "Elaborate Lives" from the musical Aida, which netted the Dr. Keith Boman Prize for Best Actor. In addition, runner-up Spotlight Awards were given to Las Vegas Academy's Ja'Keetrius Woods and Faith Lutheran Conservatory of Fine Arts' Jackson Langford.
The rapturous evening was emceed by a number of Las Vegas' top entertainers and creative professionals, includingKeith Thompson and Clint Holmes, two great friends of The Smith Center. Thompson is currently the musical director and conductor for Jersey Boys at Paris Las Vegas; he's also worked with productions of Mamma Mia and The Producers to name a few and is working on the score for IDAHO! The Comedy Musical debuting July 2016 at The Smith Center. Holmes is an award-winning, immensely popular headliner and artist-in-residence at our Cabaret Jazz venue. Between singing and songwriting, Holmes also dedicates his time and passion toward his Clint Holmes Foundation for the Performing Arts, which benefits children in Clark County School District art and music programs. Also on the creative team was Kerry O'Malley of Showstoppers at Wynn Las Vegas, Into the Woods and Annie Get Your Gun; Louisa Lemos of Mamma Mia (as well as being a teaching artist in our Education and Outreach Department); and choreographer Lauren Tartaglia, who performed in productions of Jersey Boys, Hairspray andGrease.
The judges' panel comprised an esteemed group of individuals. It included Travis Cloer of Jersey Boys; Nicole Kaplan of Showstoppers; Kris Engelstad McGarry of the Engelstad Family Foundation; Torrey Russell of Broadway in the H.O.O.D.; Josh Strickland of Vegas the Show, PEEPSHOW and Tarzan on Broadway; Aaron Tuttle, lead faculty of the theatre program at the College of Southern Nevada; and Andy Walmsley, a set designer who has worked onAmerican Idol, So You Think You Can Dance, the Emmy Awards and Miss USA.
While the joyous evening came to a close, the awards process is far from over for winners Neistadt and Dean. The two are headed to New York City later this month. There they will be participating in the National High School Musical Theatre Awards on Monday, June 29 at the Minskoff Theatre. Each will be vying for a prestigious Jimmy Award, which goes to the top young actress and actor in the nation. The two representatives from Nevada will be competing against champions from more than 30 regional awards. No matter how the awards turn out for the two Nevada representatives, they will receive amazing opportunities for merit scholarships, professional advancement and other recognition.
In the run-up to the awards ceremony, all National High School Musical Theatre Awards participants, including Neistadt and Dean, will experience five days of intensive coaching, master classes and rehearsals with theater professionals during their time in New York City.
The Nevada High School Musical Theater Awards program is supported by a generous gift from The Elaine P. Wynn Family Foundation.
Everyone at The Smith Center congratulates all the nominees in this year's Nevada High School Musical Theater Awards. Each of these bright young Nevadans have amazing futures ahead.
Below is a quick look at the student stars from this year's presentation. We can't wait for 2016's awards!