2/1/2019
Performances and Artists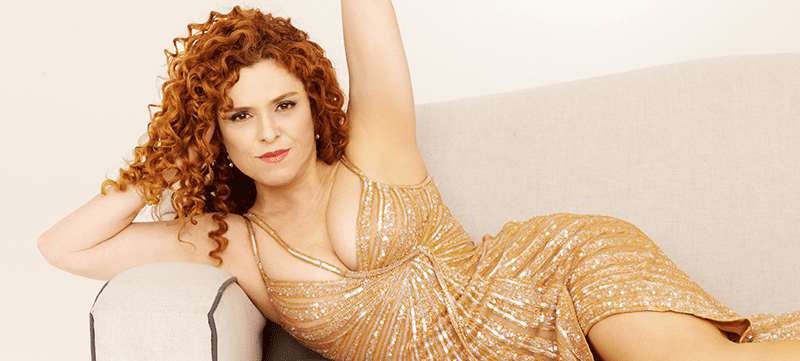 Stage-and-Screen Star Bernadette Peters to Perform Hit Broadway Tunes
Few entertainers are so widely celebrated for their vibrant and sultry style as Broadway, film and television star Bernadette Peters. This has earned her prominent roles throughout her unrivaled career, including starring in 17 films like "Pennies From Heaven" and "Little Shop of Horrors," plus a wide range of Broadway smashes, such as "Annie Get Your Gun," "Gypsy" and Neil Simon's "The Goodbye Girl." Peters most recently ended a wildly popular run starring in the hit Broadway revival of "Hello, Dolly!" and co-starred in all four seasons of the award-winning Amazon series "Mozart in the Jungle."
With Peters showcasing her powerhouse vocals and dazzling charisma at The Smith Center on March 15 — where she will perform show-stopping renditions of Broadway melodies while backed by a 10-piece orchestra — she shares surprising insights below about her career and artistry.
You just received critical acclaim for your portrayal of Dolly Gallagher Levi on Broadway. What was it like taking on this beloved role?
Peters: When I read the script, I realized what a fabulous woman Dolly Gallagher Levi is and what a beautiful story (she has): A woman who decides to rejoin the human race 10 years after the death of her husband. During the show, she talks to him and requests his blessing to continue on with her life. She wants a sign…Which she gets.
You've played such memorable roles throughout your film and television career, including Gloria Windsor in "Mozart in the Jungle" – how do you choose your screen roles, and what appealed to you about that particular show?
Peters: What appealed to me and why I accepted the role of Gloria on "Mozart in the Jungle" was the incredibly talented creative team, i.e. Jason Schwartzman, Paul Weiss and Roman Coppola. I was also very excited to be working with Malcolm McDowell. It turned out we had fabulous chemistry, and what a joy it became to work with Malcolm. I SO want to work with him again.
You've enjoyed such an incredible Broadway career. What has been your favorite or most challenging role on Broadway, and why?
Peters: My favorite role is usually the one I'm currently working on. That meaning, I've loved every role and have chosen carefully, and I've had the opportunity to play some incredible people.
The most challenging, I feel, has been (starring as Mama Rose in) "Gypsy." Most were surprised that a small blonde was cast in the role of Rose, especially after Ethel Merman and Tyne Daly both played this character.
At the time I was cast, June Havoc offered to speak with me and told me that I was most like her mother. Rose was a small strawberry blonde, and when Herbie saw her at the top of the stairs, she saw him fall for her. She said that Rose was a "mankiller."
I must say, that role became my most rewarding and fulfilling acting experience to date.
Your career spans theater, television and film – are there significant differences in working between these different mediums, and do you have a favorite?
Peters: I really love doing live concerts, mainly because there is no fourth wall. I can say what I feel at the moment, have fun with the audience and choose the material I love that connects with me strongly.
We are there  — both myself and the audience  — to have an experience.
Do you find the theater industry has changed through the years, and what would be your advice to up-and-coming performers about finding success?
Peters: The industry has changed, but I still believe finding success is finding your individuality. Make sure you are expressing yourself honestly, and it's coming from a pure place. That way, you are an original and not like anyone else.
Bernadette Peters performed as part of the 2018-2019 season.