2/17/2017
Performances and Artists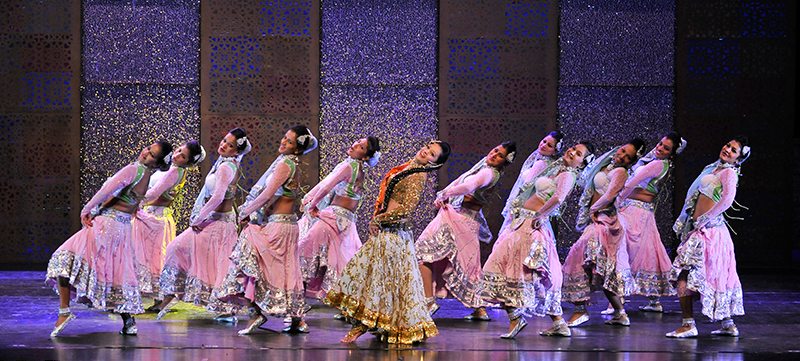 Walk any street in India, says Ankush Dhawan, and everyone you meet will have a direct connection to dance and music.
"That's what brings our country together. India is very diverse, we speak many different languages, but music is its own language," Dhawan says. "Music and dance runs through the veins of the country."
Most of the world is familiar with how rich culture has been captured by Bollywood, the Indian film industry known for elaborate musicals that produces 1,000 films a year — twice as many as Hollywood.
It's Bollywood's vibrant dance numbers that audiences will experience in Bollywood revue "Taj Express," says Dhawan, creative director for the show.
"Over the last few years India has come out on the world map," he says, "The entire world wants to know about India."
The Bollywood Beat
Watch a Bollywood film, and it's not long before a musical number breaks out.
That's because this provides a fun and efficient storytelling vehicle, Dhawan says.
"Songs make it easy to show a journey," he says. "You can show a boy and girl falling in love in a three-minute song, which might otherwise take 20 minutes of screen time. With music and choreography, you can convey the message."
The creative teams in Bollywood films have no small task in achieving this, he adds.
While a dance scene might take a few days to shoot, the music composition and dance choreography can take much longer to create.
"You can't take a song out of a Bollywood film," he notes. "They are written, composed and choreographed for that particular film and that particular moment of the film to move the story forward."
Dynamic Dance Forms
Ask what Indian dancing looks like, and there is no single answer.
There are a vast number of Indian dance forms from different regions, Dhawan says, all of which are featured in Bollywood films.
"Every dance form has its own unique flavor," he says.
Some are known for exaggerated facial and eye expressions, others for exhibiting high energy and even incorporating martial arts.
Many Indians grow up studying the dance of their region, Dhawan adds.
"Every Indian sticks to their heritage," he says. "We stay connected to our roots with forms of dance."
A Wealth of Culture
Taj Express will not only showcase many of these dance forms, but many other aspects of Indian culture, Dhawan says.
This includes 1,500 costumes, plus musicians performing the music of various Indian regions.
When asked why Bollywood plays such a strong role in Indian culture, Dhawan says the answer is simple.
"At the end of the day, everyone wants some form of entertainment," he says. "There's nothing better than sitting and relaxing and watching a Bollywood film. It's entertainment."
"Taj Express" was a part of the 2016-2017 season.