11/27/2017
Community Impact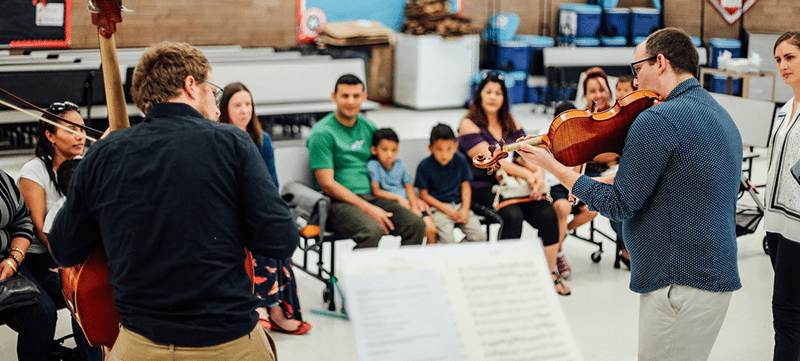 For some people, performing at Carnegie Hall represents their greatest achievement in life.
When Las Vegas native Alexandria Le became a Carnegie Hall resident artist, however, it simply marked the beginning of a whole new career.
"I wanted to have more impact," Le recalls. "I wanted to perform not only for those who understood classical music already, but also those who weren't privy to that experience."
And she wanted to do so in her hometown of Las Vegas, even after achieving an impressive career as a concert pianist in New York City.
Le has more than accomplished her goals with her Las Vegas nonprofit, Notes with a Purpose.
The organization is modeled after her work with Carnegie Hall's outreach programs, through which she performed for all sectors of society, including New York jails, addiction recovery programs and hospitals. 
"That's when you realize music transcends boundaries," says Le, the nonprofit's founding executive artistic director. "I realized musicians don't get these opportunities if there isn't an organization facilitating it."
Serenading Those in Need
Since she launched Notes with a Purpose two years ago, Le has helped provide these very opportunities in Las Vegas.
These include one of her nonprofit's most successful initiatives, Wednesdays Live at the Mission. This program arranges for piano students from the Las Vegas Academy of the Arts to perform for hundreds of individuals every Wednesday at the Las Vegas Mission, a homeless shelter, food pantry and addiction recovery program.
Beyond helping local teen musicians overcome stage fright, the experience also exposes them to a side of Las Vegas – and humanity – they might otherwise never see.
"It's nice to involve high schools students, because they need to see this, those who are disadvantaged and given a poor deck of cards," Le notes.
"Some kids have performed over 40 Wednesdays," Le says. "They've grown in their confidence with themselves and in realizing what they're doing is worthwhile."
Bringing Carnegie Hall to Schools
Le has also brought more of Carnegie Hall to Las Vegas.
Through her nonprofit's Music JuiceBox Series, she has arranged for Carnegie Hall resident artists to perform in-school classical music performances across Southern Nevada.
Interweaving various curricula, these performances are highly interactive, engaging students in discussions ranging from repertoire to the science of sound production.
"(The resident artists) have different ways of engaging the students. It can be aesthetic, visual, auditory," Le says. "It has a really large educational component, because the kids will be able to relate to it."
More than 18,000 children and adults have enjoyed these performances at no cost in just 12 months.
"I think that music exposure is tremendously important," Le says.
More to Come
Le has more plans yet for her nonprofit.
These include soon launching a local version of Carnegie Hall's Lullaby Project, partnering community musicians with mothers in challenging circumstances to develop and record a lullaby as a tool for bonding with their children.
"It's a beautiful project and we just got fully funded for a pilot program," she says.
Others who want to show support of her nonprofit's efforts can learn more at www.noteswithapurpose.org.
"It all harkens back to what I was originally thinking, of 'let's get classical music outside the concert hall, so people can access it,'" Le says.