3/9/2017
Education and Outreach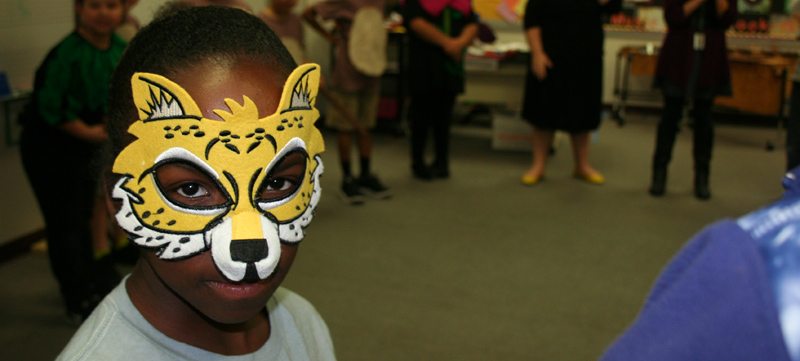 It's five minutes to showtime at William K. Moore Elementary, and a horde of tiny animals – a tiger, bear, elephants and monkeys – are seated in a circle with their eyes closed.
"Think of the character you are supposed to be in the show," murmurs music teacher Natalie Crosby to the costumed children. "What are your characters' emotions and reactions throughout the show? You're turning yourselves into that character right now."
This is a big week. The school is premiering its first theater production ever, "The Jungle Book KIDS" musical, starring third, fourth and fifth grade students.
For most of them, this is their first time performing on stage.
They're not alone. Seven Southern Nevada schools this year are putting on inaugural productions through The Smith Center's Disney Musicals in Schools (DMIS) program, which helps schools create sustainable theater programs.
A total of 25 local schools have participated in the program at no cost, thanks to funding by the Elaine P. Wynn & Family Foundation.
"There haven't been very many after-school activities at our school before this," says Melvin Ladera, William K. Moore teacher and the show's director. "Seeing the joy in the kids' faces to stay after school for rehearsals, that's really exciting."
Community Wide Effort 
Like many schools participating in DMIS, William K. Moore's production took a village.
Under the program, The Smith Center provides professional teaching artists to help each school's staff not only organize their production, but also teach dancing, singing and acting to children.
"It really brought our school together," says Crosby, music director for the show. "A lot of teachers stepped up to help with costuming, people came in to do makeup."
In addition, students' families volunteered to help create costumes and the set by hand.
Local businesses even loaned essential equipment like a sound system.
"This was something that really pulled a lot of people in," Ladera says. "We're excited about the trend it will create."
A Lasting Impact
Everything came together for the school's multiple performances, with students bounding across the jungle backdrop to deliver their lines with gusto.
Throughout the half-hour show, not a line, lyric or dance move was forgotten.
Participating in a theater production can have an invaluable impact on young students, says Anastasia Weiss, a teaching artist assigned to the school's production.
"You see some of the kids start totally inward, and then go through each step to the point they're singing and dancing with every ounce of their soul," she says. "It's also neat to see friendships be created among kids who might not have talked to each other outside of school."
The show also provides an incentive for children to behave, Ladera adds.
"All the kids in our show have really stepped it up in behaving in the classroom," he says.
Tanya Sotelo, whose 9-year-old son played King Louis, says he never asked for her help with lines, to keep his role a surprise for her.
"I was just so proud of him, because he has trouble reading," Sotelo says. "To see him do this and have such motivation was amazing."
Abigail, 10, says she gained confidence performing on stage as a singing and dancing plant.
"I made friends with the whole cast," she says. "I love acting."
To learn more about The Smith Center's Education and Outreach programs, visit: www.thesmithcenter.com/education/education-outreach-programs.