11/1/2017
Education and Outreach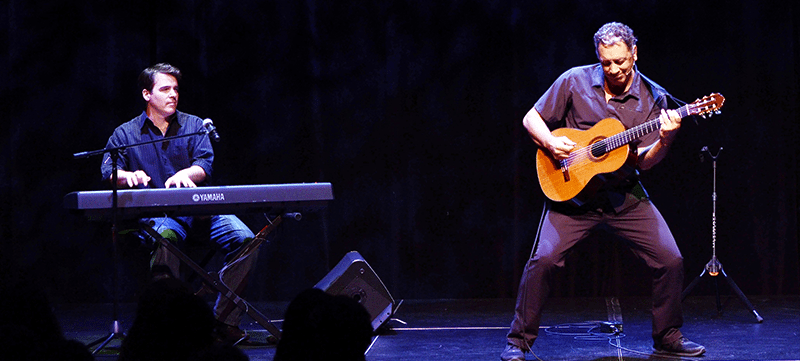 Donor support provides cross-cultural student matinees at The Smith Center
Thanks to generous donor support, The Smith Center provided 1,600 Southern Nevada students with a cross-cultural experience this past week like none they had experienced before.
After seeing student matinees of "Cuentos: Tales from the Latino World," students poured out of The Smith Center's Troesh Studio Theater with wide smiles, many chanting "uno, dos, tres!" and other Spanish words.
"I learned how to say more Spanish words," said 10-year-old Melanie Rodriguez, a student at John F. Mendoza Elementary School. "It's important to know about other people and the languages they speak, so we can get along more and we can enjoy other people."
It was natural for Spanish to be fresh in the students' minds, as "Cuentos" – performed by David Gonzalez, storyteller, musician, poet, actor, writer and cultural ambassador for the U.S. State Department – was all about raising awareness of Latin cultures.
Gonzalez incorporated Spanish vocabulary throughout the show, encouraging the young audiences to repeat and learn them.
Through storytelling and songs, the show painted a vivid picture of the people and cultures from different Spanish-speaking parts of the world, including Puerto Rico, South America, Cuba and even the Bronx.
"I'm going to tell you a story about something amazing. It came from Africa to Cuba, from my dad to me, and now from me to you," Gonzalez said during the show, before launching into a myth about a prophet who trades his magic shells for the power of the drum.
The several student matinees throughout the week were provided at no cost to participating students and teachers, thanks to donor contributions.
Spotlighting Latin Culture
Charles Michel, a fourth grade teacher at Mendoza Elementary, noted the show was empowering for his class, as 34 of the 37 students are Hispanic.
"This definitely shows their cultures are valued," Michel said, adding that the show's themes also tied into his class' current lessons on Hispanic folk tales. "(The students) are from diverse cultures, and they're getting to see that on stage."
Most of his students would not have opportunities to visit The Smith Center outside of its student matinees, Michel added.
"(Early exposure to theater) transcends into life skills. It encourages them to do well academically, gives them a purpose," he said. "We appreciate The Smith Center being there for the kids. It's very powerful for the students."
Thanks to donor support, The Smith Center provides student matinees around the year to tens of thousands of students, at no cost to participants.
Performed by regional, national and international theater companies, each matinee includes educational elements.
Learn More
For more information about the student matinee program, click here.