1/6/2017
Community Impact / Inside the Theater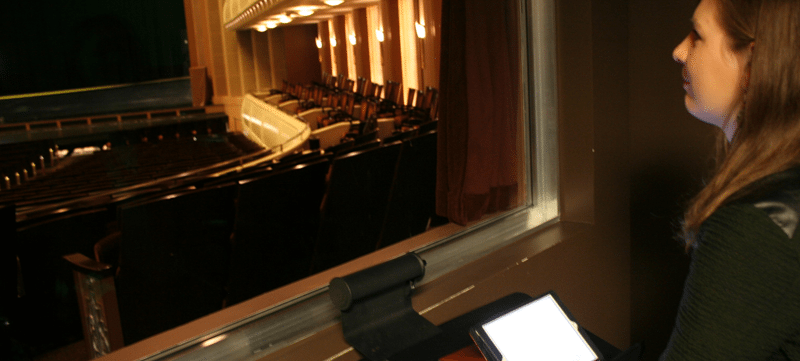 Many Smith Center performances find Chanelle Carson tucked in a room at the back of Reynolds Hall, where she scrutinizes the stage through a window.
Enunciating carefully, she describes everything she sees.
"The stage is illuminated by a simple ghost light. In the background, there's a large black curtain that obscures about two-thirds of the back wall," she demonstrates.
During a show, every word she speaks is transmitted to an earpiece worn by audience members who request it.
This is because Carson works as one of The Smith Center's three audio describers, who relay the visual elements of various shows to audience members who are blind or visually impaired.
"I'm able to provide something for someone who may never have experienced it otherwise," Carson says. "I can introduce someone to the ballet for the first time."
The Smith Center is one of few venues in Las Vegas to offer live audio descriptions, provided for Broadway Series shows and Nevada Ballet Theatre (NBT) productions.
These include the currently running "Fun Home" and "Finding Neverland" coming in February, both being handled by audio describer Judy Reich.
"Everyone, no matter of ability, should be able to experience the arts," Reich says. "It's an enriching experience, and no one should be denied it."
All in the Details
Audio description is no simple task.
The role involves describing every visual component on stage, including set pieces, costuming, gestures and dancing, all of which allows listeners to better understand and appreciate a live performance.
The real trick: Descriptions must never overlap dialogue.
For dance productions without any speaking at all, descriptors relay all of the performers' movements.
"If it's a comedy, (the challenge) is being able to get the description in there because the shows are so fast-paced," Carson says. "For a dance show, obviously that's an entirely different challenge."
Descriptors prepare carefully, drafting scripts about each show's visuals through advance research and by watching rehearsals and initial performances.
They also keep a watchful eye during each performance to capture any variations.
Carson's favorite show to describe so far? Riverdance.
"I felt like I'd run a marathon by the end of it," she says. "It was just so much fun."
Many Assistive Services
The Smith Center has offered audio descriptions since 2012, inspired by other venues across the U.S., says Sara Thielman, senior assistant house manager.
Every audio descriptor undergoes in-depth training with world-leading expert Dr. Joel Snyder, she adds.
"Las Vegas is such a large city now, there really is a need," Thielman says.
This isn't the only assistive service available.
The Smith Center also offers hand-held closed captioning, assistive listening devices and hearing loops for every show and ASL translators for select Broadway shows.
"Even when it comes to evacuation, we train our ushers when it comes to special needs," she says.
The Smith Center's assistive services are possible because of public support, she adds.
"It's very rewarding, because we know we're providing such a wonderful service," Thielman says.
Making a Difference
Reich's favorite experiences include describing a student matinee for more than 20 visually impaired Clark County School District students.
Regardless of listeners' ages, she always enjoys their feedback.
"The best response I can get is if the person they're with says, 'they didn't ask me any questions," she says.
Learn more about Smith Center assistive services by calling 702-749-2000 or visiting www.thesmithcenter.com/your-visit/accessibility-information/.