6/25/2015
Discovering The Smith Center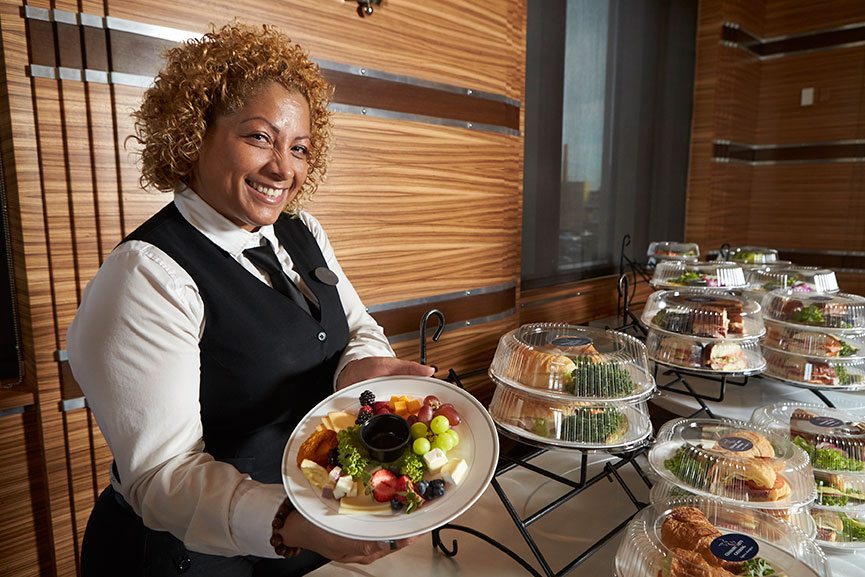 Taking in a Broadway spectacle, jazz performance, dance troupe or any of the world-class entertainment offered at The Smith Center can be a complete dinner (or lunch!) date with any of the nosh and swig offerings found in both Reynolds Hall and Cabaret Jazz.
On the Mezzanine level of Reynolds Hall, patrons can sit down before curtain call and during intermission* for a selection of handy snacks like croissant sandwiches along with a choice of soft drinks, beers, wines and spirits. Even candy bars and other sweets are available. Additionally, a number of bars are located in the Grand lobby, the Mezzanine and the Upper Lobby.
Our Cabaret Jazz venue offers an array of ways on its menu to grab a bite, lift a glass and enjoy a true cabaret-style experience.
Bento boxes meant for sharing cover a number of cuisines. From the "Mediterranean" box that includes a selection of hummus dips to the "Italian" box with an arrangement of cured meats and other savory items, there is something for everyone's tastes.
For the sweet tooth, New York-style cheesecake is on the menu (served with blueberry-strawberry compote and fresh whipped cream).
A full assortment of soft drinks and sparkling waters is available, including Red Bull and Perrier.
As a spirited treat to match the music and mood, Cabaret Jazz features a creative custom cocktail menu.
Our Philharmonic Phizz brings purple Parfait Amour liqueur together with Brut Champagne and Grand Marnier. The Godfather is a blend of Glenfiddich single malt Scotch and Disaronno amaretto. A Cappuccini is rich with Stolichnaya vanilla vodka, Patron XO Café, Frangelico and Half & Half.
For classicists, the Sazerac is a timeless union of rye whiskey, simple syrup, Peychaud bitters and a lemon twist.
An inviting and diverse wine list is available, too, both by glass and bottle.
*Select engagements may not offer food and beverage service.