3/26/2018
Community Impact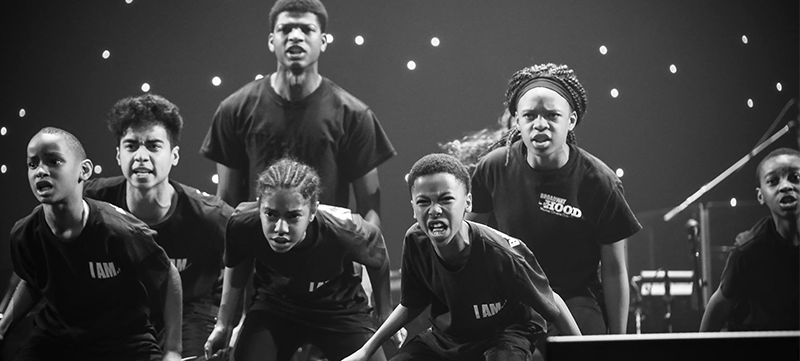 When Torrey Russell says the arts saved his life, he means it.
Raised by a single mother in Norfolk, Virginia with "very little to nothing," Russell was failing every subject by middle school, with few prospects.
"The consensus in my neighborhood was you became a drug dealer or you went to jail or you died. Those were the choices," he remembers.
His life would turn out very differently, though — thanks to a teacher who recognized his affinity for performing.
With her help, Russell successfully auditioned for his community's performing arts high school. This would launch his entertainment career of eventually working with legends like Dr. Maya Angelou, Sidney Poitier and Tyler Perry.
"To go against those odds and be able to do this with my life, I was blessed," Russell says.
Russell has made it his life's mission to provide this same opportunity for others, through his Las Vegas-based nonprofit, Broadway in the H.O.O.D.
Focused on transforming community members' lives through theater training and productions, the organization provides these opportunities at low or no cost to participants.
"Throughout the world, there is always a Torrey out there somewhere, a young person longing to be part of something greater who can't afford to," Russell explains. "And it just takes one person to inspire greatness."
Opening Doors with the Arts
Broadway in the H.O.O.D's acronym stands for Helping Others Open Doors, and that's just what it has achieved.
The nonprofit recruits Southern Nevadans from all socioeconomic backgrounds to audition, train and participate in the group's several theater productions and classes throughout the year.
With over 300 community members participating in the nonprofit's community productions, including "The Color Purple," Russell has even hosted auditions at a women's shelter.
Experiencing the hard work, collaboration and positivity of a theatrical production has inspired many to change their lives, Russell says.
"We've literally seen people who used to break into people's houses and rob them to no longer doing those things," Torrey says. "We've taken people who have nothing and given them the opportunity, the education and the foundation to understand that they are destined for greatness."
Rare Opportunities for Youth
Russell's top priorities include engaging at-risk youth.
Each year, Broadway in the H.O.O.D. selects 80 youths to participate in its theater camp, teaching acting, dancing and singing daily throughout the summer – with meals included – at no cost to the children.
These youths also attend the nonprofit's theater classes the rest of the year.
"We're able to take them off the streets where they could be doing anything, and give them this opportunity," Russell says.
Incredible Success Stories
Several Broadway in the H.O.O.D. participants have gone on to perform in national tours and on Broadway.
These include Las Vegas resident Jordan Toure, who Russell escorted to New York to successfully audition for "The Lion King" on Broadway.
"He's the son of a single mother, just like me," Russell says. "He got to live his dream."
The nonprofit is celebrating its fourth season of Broadway-style shows developed, cast and produced locally, with productions performed at The Smith Center.
Russell has also expanded Broadway in the H.O.O.D. to collaborate with theater organizations across the U.S., even launching a performance exchange program with Nova Scotia.
"The benefit of this is understanding that life is greater than just your neighborhood, just your state, just your country," he says. "It gives us the opportunity to know the world is bigger."
Child and Youth Casting
Broadway in the H.O.O.D. will host auditions for new cast members ages 9 to 17 on May 19 and 20 at The Smith Center. Email [email protected] or call 702-482-8777 for more information.
Give Support
Support from the Engelstad Family Foundation has made much of the nonprofit's success possible.
Russell welcomes additional community support. For more information, visit: www.broadwayinthehood.org or contact [email protected].