5/7/2018
Broadway Las Vegas / Performances and Artists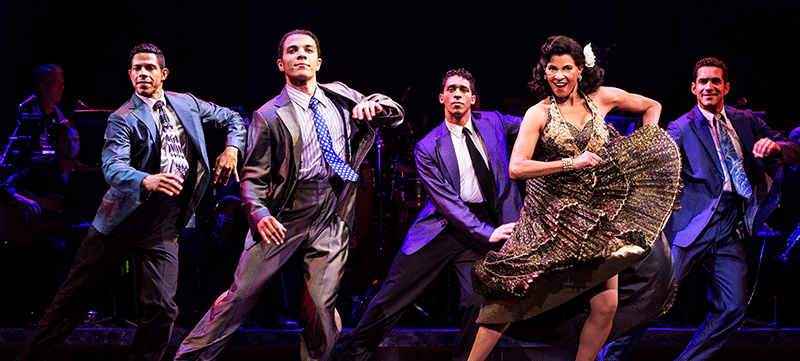 Blending Greatest Hits with an Unbelievable Life Story
For decades, she has enticed Americans to get on their feet, turn the beat around – and, of course, conga their cares away.
But Gloria Estefan had a long road to becoming an international superstar with over 100 million records sold, making history in bringing Latin music to mainstream audiences and accruing a stunning 26 Grammy Awards with her producer-musician husband Emilio.
Before all of that, she had to flee her native Cuba with her family during the Cuban Revolution. Arriving in America, they faced significant financial and racial barriers.
It's no wonder the Latin artist wanted to tell her story in an autobiographical Broadway production.
The smash musical "On Your Feet," heating up The Smith Center stage from September 4 to 9, merges the engrossing ups and downs of Gloria Estefan's life story with her sizzling, electrifying hits.
"It's the story of Gloria Estefan and Emilio Estefan, who created this amazing music empire," says Seth Rudetsky, host of the SiriusXM On Broadway station and emcee of The Smith Center's annual Broadway season announcement event. "You really find out all the hurdles they had to overcome."
An Incredible True Story
Would it surprise you to learn Gloria Estefan married her first and only boyfriend Emilio, now her husband of 40 years?
There is much more that will amaze you about the couple's story.
A love story at its heart, "On Your Feet" chronicles the couple's incredible journey from humble beginnings as Cuban immigrants in Miami to chasing their fierce ambition to global fame and success – epitomizing the American dream.
"You cannot believe the amount of hit songs that Miami Sound Machine and Gloria Estefan has," Rudetsky says, alluding to the Estefans' early band.
The musical even dives into events that were dramatic turning points for the couple, including a near-fatal bus crash that almost left Gloria Estefan paralyzed and her career destroyed.
"It was beyond not easy," Rudetsky says.
Rhythm Is Gonna Get You
Everyone has a favorite hit by Gloria Estefan and Miami Sound Machine — just a few of which include "Get On Your Feet," "Live for Loving You," "Rhythm is Gonna Get You," "1-2-3" and "Conga."
Audiences will be swept away by all of these infectious melodies and more in this high-energy musical, which includes over 20 hit songs and vibrant, large-scale dance numbers.
"It's phenomenal music, and directed and choreographed by two-time Tony Award winner Jerry Mitchell," Rudetsky adds.
Still not convinced?
You won't want to miss the show's epic grand finale, when performers form a conga line with the entire audience.
"It's a great show for the family," Rudetsky promises.
"On Your Feet" was a part of the 2018-2019 Broadway Las Vegas season.