7/27/2017
Education and Outreach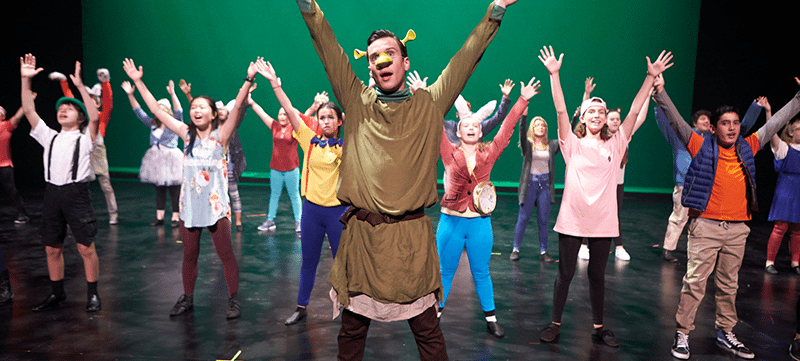 Elexa Green was all smiles as she applied theater makeup in a Smith Center dressing room, immersed in a crowd of exuberant, costumed kids.
"The first time I ever performed on stage, I was super nervous, but this time I'm feeling good because I know all my dances," said the 11-year-old, one of 150 children at this year's Camp Broadway summer theater program at The Smith Center. "The biggest thing I've learned is to get out of my comfort zone."
Performing the finale production in Reynolds Hall was a long-time coming for Elexa, a Mesquite resident who commuted an hour and 20 minutes each way to attend the weeklong camp.
It was worth the daily trips, she said, for the chance to train with top theater professionals and perform at The Smith Center.
"It feels like I'm a professional Broadway star," Elexa said. "I only got five hours of sleep the night before the first day, I was so excited."
A Girl Transformed
Performing on stage is a huge step for Elexa, who the Green family adopted two years ago.
She came from a troubled past, said her mother Bethany, and performing has helped her blossom from a darker place.
"On the first day of camp driving home, she said, 'Mom, I can be anyone on stage!' and I just started crying, because it's true," Bethany said. "No one knows her on stage or the dark things she went through, and it's powerful."
Elexa's entire attitude changed during her week at Camp Broadway, Bethany added, noting that Elexa first discovered performing through The Smith Center's Disney Musicals in Schools program.
"When she's acting, she's a different child," Bethany said. "The sadness that still lingers with her is not there. It's gone."
This newfound confidence has already helped Elexa with confronting issues, Bethany added.
She expects this to serve as a foundation for Elexa to build on, moving forward.
"People are telling her she's good at something, and that's impactful," Bethany said. "She walks higher this week, and this will stick with her."
Inspiration for Many
Elexa was one among many children inspired by their experiences at Camp Broadway, where campers trained to put on adapted performances of hit musicals, including "Peter Pan" and "Shrek."
Their week included working directly with top professionals like Keith Thompson, former music director of "Jersey Boys" in Las Vegas.
Manuel Nieves, 11, said he learned many benefits of collaborating with others.
"I really like how we work together as a group, and it's all of us together," he said after a dress rehearsal.
For Rachel Boyd, 16, Camp Broadway was "a chance of a lifetime" to work with professionals from live theater and television.
"It's sad when you have to leave on Friday, because you realize this really is a chance to find yourself," Boyd said. "You make new friends during the process, you learn new skills and you're able to be in a production and understand what that's like."
More Information
To learn more about Camp Broadway, visit www.thesmithcenter.com/education/camp-broadway.