2/12/2018
Performances and Artists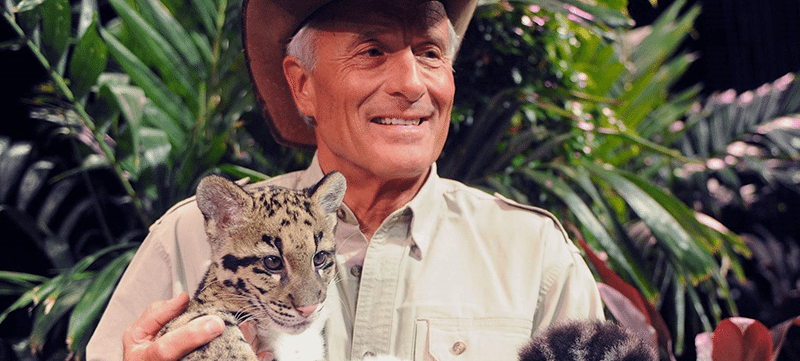 America's Favorite Zookeeper Jungle Jack Hanna Brings Exotic Animals to Las Vegas
Imagine trying to keep an alligator comfortable in a hotel room.
This is just one of many less-than-ordinary factors constantly on the minds of the animal handlers for Jungle Jack Hanna, the famous television zookeeper touring the country with his live show of exotic animals.
"Animal educators do our (educational) programs and are also responsible for the day-to-day care of the animals themselves," explains Hanna, whose hit ABC show "Jack Hanna's Wild Countdown" boasts a nationwide following. "They are with the animals around the clock, doing everything from feeding to cleaning to exercising to playing."
Headed to The Smith Center with a surprise assortment of creatures on Saturday, March 17, Hanna says his team is never bored while caring and transporting his critter costars.
"The animal handlers love their jobs, but caring for animals is real work," Hanna says.
A Traveling Menagerie
Hanna's live shows typically include 10 to 12 exotic animals, he says. They can range from as small as a three-banded armadillo — "a little bigger than a softball," Hanna describes — to as large as a mature alligator.
Hanna's team has a solid process for taking this zoo on the road.
Expert animal handlers transport the animals in temperature-controlled vehicles, Hanna says, with each animal in an individual enclosure with fresh food and water.
Although veterinarians don't travel with the show, a veterinarian sees all of the animals prior to departure and must give them a clean bill of health before they travel.
"The animals are very comfortable in their enclosures and will often sleep during the journey," Hanna notes. "On the road, each species is exercised according to its individual needs."
Rest and Relaxation
For overnight travel, the show's animals actually stay in their animal handlers' hotel rooms — though they remain in their enclosures, Hanna adds.
"The hotels always know the animals are coming, and many say they are their favorite guests," he says.
The animal team has snacks handled, too, Hanna adds. They travel with coolers stocked full of food that align with each creature's specialized diet.
"It isn't uncommon for the team to stop at local grocery stores to pick up organic produce if needed, and lots of chocolate chip cookies for me," Hanna teases. "Many of the animals love fruits and veggies, just like us."
Animal Ambassadors
Hanna refers to the creatures in his live show and other educational presentations as "animal ambassadors" that are safe to view up close.
"They are animals that are habituated to being around people," he says. "They serve as wonderful ambassadors to their cousins in the wild — however, they are not pets."
He underscores this with the story of one particular animal ambassador, a rescued spider monkey.
The monkey was found thrown away in a dumpster, Hanna says. She was extremely ill.
Although animal experts Hanna works with nursed her back to health, "she still has lasting effects from her early life as someone's neglected pet," Hanna says. "She is an amazing animal ambassador to show people why exotic animals do not make good pets."
Jack Hanna took the stage as part of the 2017-2018 season.