4/23/2018
Education and Outreach / Community Impact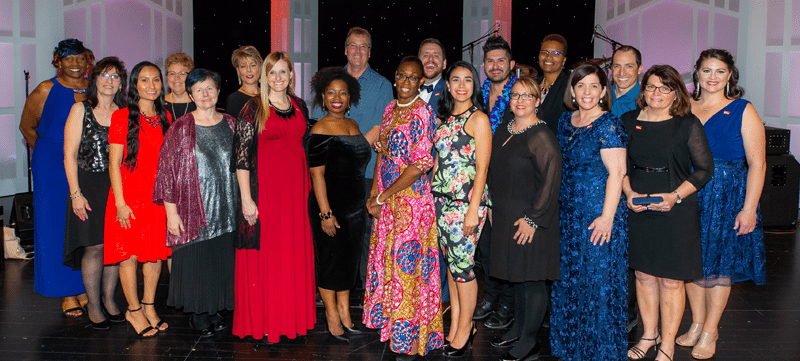 Standing on stage at The Smith Center behind a podium with her Heart of Education award, Sig Rogich Middle School teacher Kristine Grant spoke with tears in her eyes.
"All I can say is I believe all children can learn," she said. "My standards are high, but my children bring it to the classroom every year."
This same heartfelt passion for teaching was expressed throughout the night on April 20 during The Smith Center's third-annual Heart of Education Awards powered by The Rogers Foundation, an event created to honor outstanding Clark County School District (CCSD) teachers.
After generating the highest number of nominations yet for the annual event — with more than 3,400 nominations received — the night of celebration honored over 750 finalists.
The top 20 educators each received a $5,000 cash prize, plus a $1,000 donation to the school program of their choice.
The event also offered hardworking teachers a full night of entertainment, featuring energetic performances by Las Vegas entertainer Frankie Moreno, comedian and teacher Eddie B, and Las Vegas magician Mac King.
Spouting his usual wit was returning emcee, stage-and-screen star Erich Bergen, best known for his role on hit CBS show "Madam Secretary."
"I know the amount of work, passion and love it takes to be a public school teacher," Bergen told the packed audience of teachers. "We will make sure tonight these people continue to be honored."
Exceptional Teachers in Our Own Community
The night's top 20 educators each offer careers filled with untold sacrifice and personal investment to advance their students' successes.
Just a few of the winners included Green Valley High School coach Erin Hill, who has led her volleyball team to over 500 wins and five state championships, as well as Crestwood Elementary teacher Laura Juliana Urtubey, who fundraised over $80,000 to create an outdoor classroom with multiple garden beds.
More of the inspiring winners included Amy Murray, a Spring Valley High School teacher who has chaperoned student trips to China, Japan, Peru and more to introduce students to foreign cultures.
Another winner, Kevin Chung, started a Science Olympiad Program at Advanced Technologies Academy to teach students about STEAM (science, technology, engineering, arts, mathematics), a program that has more than doubled in participation and taken students to a statewide competition.
Most educators were emotional, elated or stunned as they took the stage to accept their awards.
"To know that people look up to me is absolutely amazing," said winner Ciara Owens, a teacher at Mario C. and JoAnne Monaco Middle School. "I'm at a loss for words, and I usually have too many."
Keeping Quality Teachers in Southern Nevada
The Smith Center created the Heart of Education Awards with the goal of promoting teacher recruitment and retention at CCSD public schools.
The night of the event, Superintendent Pat Skorkowsky said he could tell by the electricity in the air that this awards program will have that effect.
"The biggest regret I have is leaving the classroom," he announced on stage to the gathered teachers. "Because you make the different every day. That's what this (event) is about."