5/16/2015
Community Impact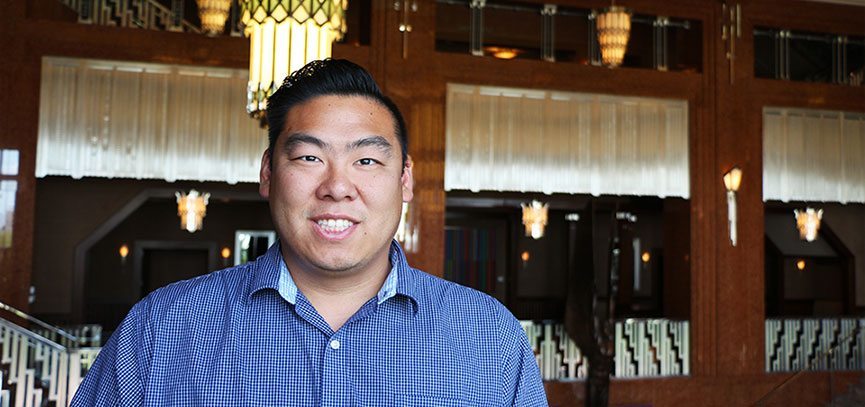 Today is Armed Forces Day, the annual commemoration of the fine Americans that serve in the U.S. Army, Navy, Marine Corps, Air Force and Coast Guard. It was proclaimed by President Harry S. Truman and first celebrated in 1950. While many people might not associate The Smith Center with the military, in fact a number of armed forces veterans and current reserve members find employment have been employed here across a number of fields. One such exemplary individual is Jonathan Wei, who has been a business analyst for more than a year.
A Las Vegas native, Wei is an alumnus of Durango High School. After graduation from Durango, he joined the Navy and was trained as a cryptolinguist.
And just what is a cryptolinguist?
"We collect raw intelligence, we translate it, we analyze it and we make reports to decision makers," said Wei in describing the position's duties. Wei served in the Navy from 2004 to 2010.
While Wei can't go into too much detail of what he did on active duty, he did give a glimpse into his time in the military intelligence world.
"It was really exciting," Wei commented, explaining that much of his experience in gathering information happened in real-time. "I was part of an elite joint-service team where all the work was time-sensitive and lives depended on our accuracy."
During his active service, Wei earned two degrees with the financial support of the Navy – an Associate of Arts from the Defense Language Institute and Bachelor of Arts from Thomas Edison State College. As a reservist he received an MBA from the Keller Graduate School of Management of DeVry University using the Montgomery G.I Bill.
While his business analyst duties at The Smith Center don't call for a cryptolinguist's exact skill set, Wei does believe that his time in the military prepared him for his career in performing arts management. "It taught me good values and discipline," Wei said. He also noted that experience in working with teams, so vital to the Navy, also serves him well in his job.
When Wei is not working at The Smith Center, he's a thrill-seeker. His hobby is drag racing and road racing; he can be seen burning rubber on tracks in Nevada, Arizona and California.
The Smith Center salutes Wei and the other veterans on our staff. Thank you to all for your service.