10/9/2020
Community Impact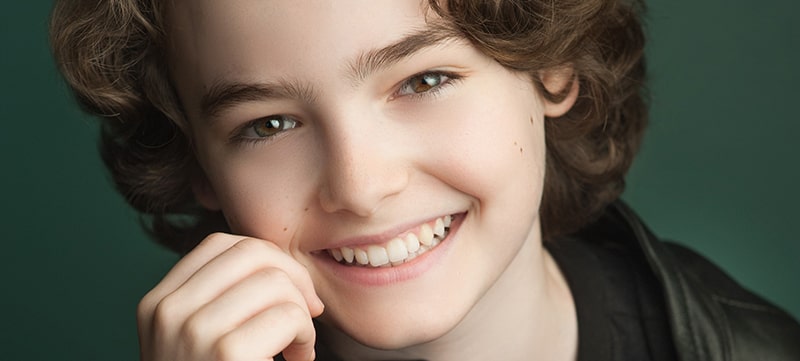 Alumnus of Smith Center's Camp Broadway Program Featured in Netflix Hit 'Stranger Things' and More
The Smith Center family felt great pride when Christopher Convery — an alumnus of the center's Camp Broadway youth theater program¬ — landed a major role in a real Broadway show, Kinky Boots.
But that marked just the beginning for the young Las Vegas native.
Since Christopher moved on from Broadway to a film and television career, the 12-year-old now boasts an IMDb account with a lengthy list of prominent roles, including costarring in films with Katie Holmes and Claire Foy, as well as acting in hit shows such as Stranger Things, The Blacklist, MacGuyver and Gotham.
Even in the midst of the pandemic, Christopher's current schedule involves shooting a Netflix show in Los Angeles while still fitting in school.
He still views Las Vegas as his home, however — and still holds The Smith Center in his heart for sparking his love for performing.
"He was born in Las Vegas and I'm so proud of that, because we love Las Vegas and we love The Smith Center," says his mother Vanessa.
Filming Worldwide
As a child actor, Christopher's formative years don't differ so much from other children.
Except, of course, for recently shooting a film in Germany and Sweden with Claire Foy, and filming in Canada with Katie Holmes for Brahms: The Boy 2 where he costarred as her son.
"Katie is a true professional actor. I learned a lot from her," Christopher says. "She would make the mother and son bond super real, by improvising with me. She would kiss me on the forehead and hug me as a real mother would do, especially during the high-stakes moments."
Holmes even stumbled across Christopher's talents as an avid pianist in a YouTube video he made.
"She really liked the video and showed it to the director William Brent Bell, and they both agreed they should add a whole new scene of me playing the piano in the movie," Christopher says.
His other favorite experiences include emoting through gestures and facial expressions while playing a mute character on Gotham.
He also played Young Billy in acclaimed Netflix series Stranger Things, during which he shot several scenes with the show's star Millie Bobby Brown.
"We had a blast hanging out together. The first thing she did when she saw me was just run up to me and hug me," says Christopher, who attends the Professional Performing Arts School in New York City. "'Stranger Things' was a wonderful experience. Everyone there was so nice."
Singing at Top Venues
Christopher's talents even extend to singing, known to those who saw Christopher belt on stage at The Smith Center for its 5th Anniversary Concert.
He has also showcased his vocals at legendary venues in New York City, such as 54 Below and Birdland.
"I had such a blast performing at these amazing places," says Christopher, who usually sings showtunes and pop hits. "I feel honored to be invited to perform there."
He especially looks up to stage-and-screen star Ben Platt, and posts videos of himself singing Platt's songs while playing piano on his Instagram, @christopherconvery.
"To be surrounded by such incredible performers on Broadway, it really inspires me," Christopher says.
Even in a Pandemic, The Show Goes On
When the pandemic struck New York, Christopher and his mother felt much uncertainty watching restaurants and performance venues shutter.
"It was crazy and scary," Convery says. "I really did miss performing."
But he didn't have to miss it for long. With the help of technology, he continues to take virtual piano and singing lessons.
Plus, he just landed a role in another Netflix show — the name of which he can't yet reveal — and is now shooting in California, with many precautions for COVID-19 safety.
"We get tested three times a week, and there are people on set monitoring everything from safety to cleanliness. There is a team that is here just to help us stay 6 feet apart," says Christopher, who fits in schoolwork around filming. "I am definitely safe on this set."
Christopher enjoys every minute of performing, says his mother, herself a classically trained ballet dancer and former performer in Cirque du Soleil's Zumanity.
"
I'm just a proud mom. As long as he's happy, I'm happy," Vanessa says. "He absolutely loves doing this, and there's nothing else he would want to do in the world than act, sing, and play the piano."
Learn More
To learn more about Camp Broadway and additional Smith Center education and outreach programs, click here.