5/20/2019
Family Programming / Performances and Artists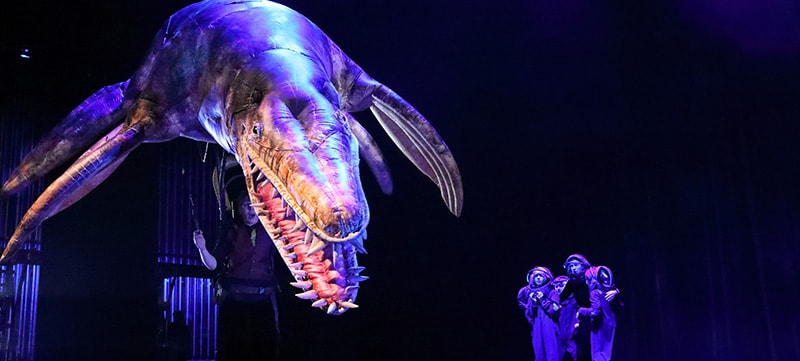 Family Show Teaches and Entertains with Lifesize Puppets
When imagining the follow-up show to its wildly popular prehistoric production "Erth's Dinosaur Zoo Live," Erth — a theater company renowned for its large-scale, lifelike puppets — was very ambitious.
"(The director wanted a show that) focuses on the very start of life on Earth, and teaches children about all the animals that came before the dinosaurs," says the new show's costar and cowriter, Catherine McNamara. "Which of course means a journey through the oceans."
That's how Erth's new hit family show, "Erth's Prehistoric Aquarium Adventure," was born.
McNamara insists this 50-minute production offers even more to enjoy than the walking and roaring dinosaurs of "Dinosaur Zoo."
Not only will children enjoy an immersive and educational experience, McNamara assures, but audience members of all ages will feel amazed and entertained.
"A lot of these animals would swallow you in one bite if they could," she explains. "Rather than hide the harsh aspects of nature, we think these are the best, most interesting parts."
Puppets, Comedy and Dance
The performances in "Prehistoric Aquarium Adventure" require no little talent.
"Our puppeteers usually come from a background of physical performance, whether this be dance, circus or physical theater," McNamara says.
The show focuses on comedy and science for its first half, McNamara notes, portraying the amusing interactions between a flashy aquarium owner and an enthusiastic marine biologist eager to explain their prehistoric reptiles.
With children invited on stage to interact with the creatures, McNamara says, the audience will participate in a story packed with both silliness and suspense.
The show offers a constant parade of immense and elaborate creatures, she adds, especially in the second half, when puppets are manipulated to a musical score that is "almost like a dance."
Performers utilize a wide variety of techniques to bring these eye-popping creatures to life, including the Japanese form of Bunraku, where puppeteers are hidden in plain sight, standing beside the puppets while clad in black velvet.
"I think a lot of the beauty is seeing the movements and dance of the human alongside the creature, but still getting lost in your imagination," McNamara says. "Alternating between seeing and not seeing the puppeteer... I can definitely hear a lot of children processing these magic tricks when I'm on stage."
Recycling with Prehistoric Creatures
Few would guess that Erth's giant, lifelike puppets feature materials saved from the trash.
With a strong focus on environmentalism, the Erth workshop strives to recycle and repurpose many materials in creating its puppets, McNamara says.
"An old floatie suddenly becomes a moon jellyfish! And kitchen strainers become angler fish eyes," she says. "It takes a lot of design, engineering and trial and error to make the most lifelike, practical and aesthetically pleasing puppets, all at once."
Entertaining and Educational
Children not only learn about paleontology during this show, McNamara notes — they also get inspired.
"I think children get very excited at the thought that still only 10 to 15 percent of the ocean floor has been explored to this day," she says. "They begin to dream up the creatures they might come across, themselves."
"Erth's Prehistoric Aquarium Adventure" was a part of the 2019-2020 season.
Family Programming Sponsored by

All patrons must have a ticket, regardless of age. No babes in arms. Children under 16 must be accompanied by a parent or guardian.