4/10/2017
Performances and Artists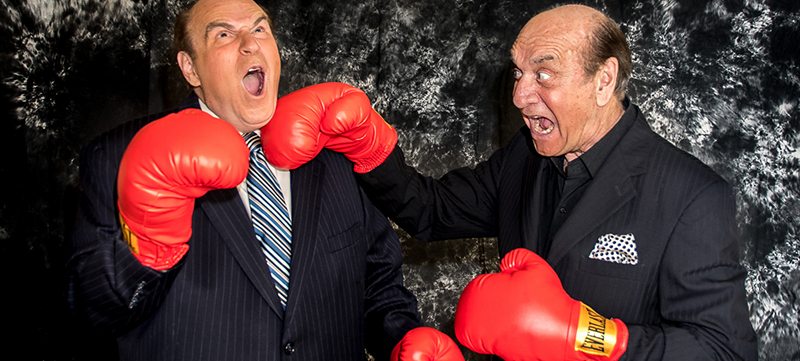 When actor/comedian Steve Solomon first started out on stage, he dreamed of making it as big as his idols – especially comedian Dick Capri.
"He was on tour with Tom Jones and Engelbert Humperdinck," Solomon recalls. "He was one of those I looked at and thought, 'Gee, I want to be there someday."
Now he has the chance to see if he truly has reached Capri's level.
With 70 years of comedy experience between them, Solomon and Capri will square off in a battle of wits on stage in their first touring show together, "The Battle of the Broadway Comedians."
The setup is simple: Both will deliver a separate stand-up act, culminating in a side-by-side performance with audience interaction.
"We're pretty much prepared for anything audiences throw at us," Solomon says.
A Different Kind of Theater
Conceiving the idea was simple enough, Solomon says. He wanted to create a production expanded beyond his series of one-man shows, and loved the thought of marrying stand-up with theater.
While stand-up has a fun, raw quality, theatrical performances offer a more elevated experience that excites audiences, he notes.
"I wanted it to be a show," he says.
Solomon didn't have to think long about which comedian to confront on stage, he adds.
He and Capri – who has performed stand-up around the world – had crossed paths many times in their careers, including being booked by the same agents for performances.
Both are also Broadway veterans, Capri from "Catskills on Broadway" showcasing his rapid-fire one liners, and Solomon from his hit original one-man show, "My Mother's Italian, My Father's Jewish & I'm in Therapy."
"Dick has a track record going back 50 years in the business," Solomon says. "He's just a classy comic and he's not over the edge. I've always admired his style."
Learning New Tricks
Solomon did experience some awkwardness in putting the show together, he notes, which involved teaching Capri a few basics.
"Dick's ("Catskills") show was pretty close to stand-up. Our director had to train Dick how to act," he says with a laugh. "There's a whole different persona you need when you're on a big stage with a big audience than in a comedy club with 50 people."
They also had an initial argument about who would perform first, he added, as Solomon found it a bit "nerve-wracking" to be the headliner after Capri opened.
"Frankly neither of us have an ego," Solomon says.
Solomon has no qualms about Capri's comedy, he adds, especially in the improvised final act when audience members shout out prompts.
"If he didn't have the talent and skills to handle the audiences, I wouldn't have used him," Solomon says. "But he can, and he does."
"The Battle of the Broadway Comedians Starring Steve Solomon & Dick Capri" was a part of the 2016-2017 season.