12/28/2016
Education and Outreach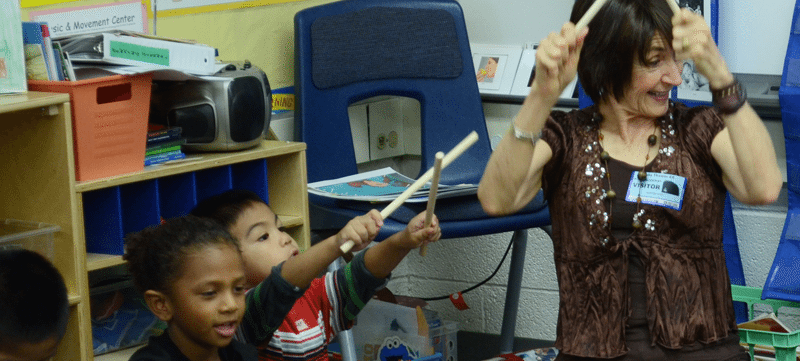 Look close enough, and you'll see storytelling everywhere, Karla Huntsman has found.
"Storytelling is the way the brain thinks and the reason why we do things," she says. "It's a powerful art."
This is why Huntsman — a drama specialist, actor and professional storyteller — has dedicated her life to sharing storytelling with all age groups, both across Nevada and the U.S.
Many days find her helping teach preschool children with storytelling through The Smith Center's Southern Nevada Wolf Trap (SNWT) Early Learning Through the Arts program.
On other days, she performs stories in settings like school assemblies and community organizations.
She even conducts storytelling and theater presentations at festivals, camps, schools and organizations across the U.S., on topics including "Telling the Scary Story," and "So, What Can You Do With Your Voice?"
"Every group has specific needs that can be met through the arts," she explains.
Teaching with Stories
When weaving stories for children, Huntsman is typically armed with a washboard, harmonica, bell… And sometimes puppets.
She might sing a song where students provide rhyming words, or she'll tell a story about respecting others.
"The kids are so responsive, whether it's an uproarious, hilarious story or a story that requires them to sit and think and be absolutely silent," she says.
She sees a direct impact working side-by-side with teachers through the SNWT program, which partners professional performing artists with educators to train teachers on using arts-based teaching methods.
The program is made possible by ongoing support from generous Smith Center donors, including United Way of Southern Nevada's Women's Leadership Council, patrons and members.
Storytelling not only teaches children behavior like impulse control, Huntsman says, but also improves students' retention of information.
"I can go back to a school I haven't been at for two or three years, and they'll say, 'You remember when you told us that story?'" she says. "Story is a teacher. If you can teach any curriculum with a story, they're going to remember that."
Something for Everyone
Huntsman's favorite work includes teaching storytelling to adults, which she does regularly at workshops, residencies and conferences.
Storytelling can benefit adults in many ways, whether bolstering public speaking skills for working professionals or helping seniors retain memories.
"I love teaching workshops because when you pull stories out of people, then they're more congruent in the world," she says. "They feel a sense of belonging in a world that they didn't before."
An Ongoing Story
Keeping storytelling alive remains a top priority.
Huntsman performs at myriad venues, including national festivals, libraries and community organizations.
To foster storytelling in Southern Nevada, she helped form the Jubilingo Story Performers, a storytelling troupe that conducts quarterly programs that will include a storytelling conference in Spring of 2017.
She is also a member of the Nevada Storytelling Guild, and is helping to recruit more members to learn and practice the art of storytelling.
After all, there are so many stories to tell.
"We're trying to build the storytelling community here so people understand the power of storytelling and the joy of it," she says.