10/18/2017
Performances and Artists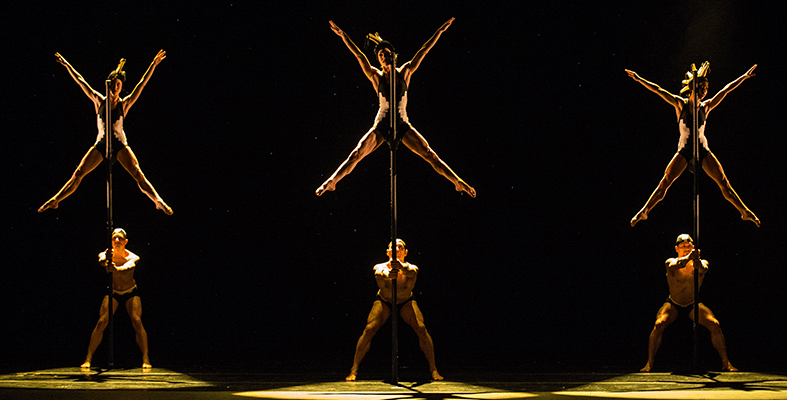 Dance company MOMIX approached the creation of its new work, "Opus Cactus," like organized playtime.
"It was almost like a Montessori class. We got together and said, 'OK, let's see if we can make a giant Gila monster crawl across the floor. How can we put three or four people together to do that?'" recalls Moses Pendleton, the group's globally renowned founder. "We start initially with an image, and see if we can apply dance and lighting and costume to bring it to life."
This marks the standalone process of the Pendleton's highly athletic company, acclaimed for its challenging choreography that conveys an immersive environment on stage.
Pendleton and the MOMIX dancers invested tremendous effort in choreographing "Opus Cactus" in 20 sections.
The result is an otherworldly universe on stage that portrays the fascinating creatures and plant life of the American southwest.
"We try to convey the mystery and the magic of this kind of outdoors experience," Pendleton says, adding that the piece is expanded from a 20-minute work originally commissioned by Ballet Arizona. "It's quite visual and strange, and hopefully has wit and beauty and poetry."
This effect is achieved in what can only be described as the MOMIX style, fraught with dancers connecting, twisting and bending in impossible ways to express creeping creatures and towering cacti.
"It's very demanding physically to play these roles with MOMIX," Pendleton says. "Our dancers are trained not only to dance, but to play things other than human. Like, how can they as actors portray themselves as sidewinders and cactus wrens and flowers?"
An Athlete's Approach to Dance
The driven physicality of MOMIX's pieces stems directly from Pendleton's rugged youth on a dairy farm, his free time devoted to downhill skiing.
"I didn't go to ballet camp," he recalls with a laugh. "I had a highly athletic background in skiing and agriculture."
He found a new direction when he broke his leg skiing while attending Dartmouth College.
To help recuperate, he took a dance class. He quickly became close friends with the class' instructor, who would eventually join him in forming the dance group Pilobolus, later leading to the creation of MOMIX.
"It gave me comfort, to be living a physical life and putting something aesthetic into it," Pendleton explains. "Fortunately, people started liking what we were doing, and we made a living of it."
Embracing the MIX
Ever seeking to experiment, Pendleton often incorporates visually engrossing props and costumes into dances to portray a scene or image.
"We might add a prop that creates a whole new form of locomotion," he says.
"Opus Cactus," for instance, features dancers taking flight alongside a mammoth moth, and using a 10-foot pole to extend dancers' range of motion.
Pendleton also utilizes different layers of music, including traditional melodies from desert regions around the world.
Together, all of these elements generate the "mix" that sparked the company's very name.
"You'll see elements of Cirque du Soleil, of ballet and acrobatics, but it's the mix that makes it unique," Pendleton says.
Momix performed as part of the 2017-2018 season.