7/7/2017
Broadway Las Vegas / Performances and Artists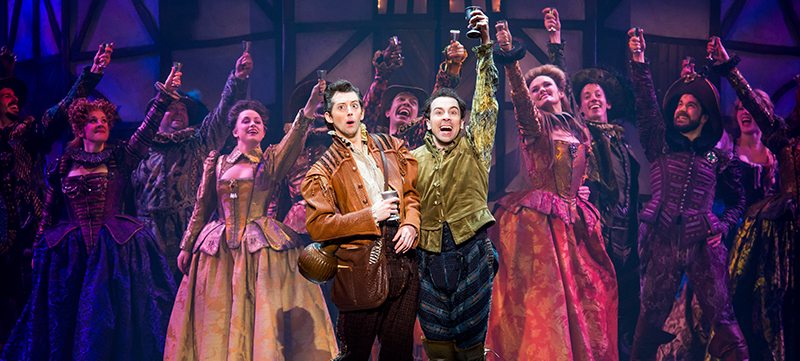 "Something Rotten!" the Tony nominated show touring the country this season, is an increasing rarity among Broadway musicals: it's a completely original work not based on a movie, play, book or other source material.
Curious who could pull this off?
The show originated from a simple idea brothers Karey and Wayne Kirkpatrick had two decades ago.
"We were big history buffs. It started with, 'Wouldn't it be funny if Shakespeare's London were a lot like what Broadway was in the 1930s?'" Karey says. "Then it was, 'What would it be like to be writing plays in the shadow of William Shakespeare, after Romeo and Juliet just opened?'"
Getting Started
If any two people could transform this into a Broadway show, it was Karey and Wayne.
Karey had built a successful career as a screenwriter for Disney Animation (with credits including "James and the Giant Peach" and "Chicken Run").
Plus, Wayne was a Grammy Award-winning songwriter (Eric Clapton's Song of the Year "Change the World" and Garth Brooks' "Wrapped Up in You" are his).
They had plenty of ideas.
"We thought of two writers," Wayne says. "What if one went to a soothsayer? Then somewhere along the way it was, 'What if the two writers were brothers? What if the soothsayer's name was Nostradamus, but he wasn't the Nostradamus? What if he was a senile, bad soothsayer, his nephew?'"
Eventually, they decided, "'If we're going to do this, we should really get serious about it.'"
An All New Work
Eventually bringing British comedy writer John O'Farrell on board to co-author the book with Karey, the creators sold the idea to Tony-winning producer Kevin McCollum, who had rolled the dice with such original musicals as "Rent" and "Avenue Q."
Tony winner Casey Nicholaw, "Something Rotten!" director and choreographer, says creating a show based on a new idea is just fun.
"You can go anywhere with it. You don't have restrictions, you don't have something to follow," he says.  "But of course you always seem to get to a place in Act Two where you're going, 'Oh my god. What happens now?'  Or, 'We need a scene to get us to the end!'"
The Final Product
By the time "Something Rotten!" opened on Broadway in April 2015, after more than four years of work, the Kirkpatricks had written more than 50 songs (15 made it into the show).
O'Farrell and Karey had made countless rewrites.
"This was really an education, like four years of college," Karey says. "The good news is, the songs we wrote our senior year were much more successful than the ones we wrote our freshman year."
It could be said the team graduated with top honors. "Something Rotten!" was nominated for 10 Tony Awards, including Best Musical.
"There's just one great song after another," O'Farrell says. "And in between, the jokes are funny. What more do you want?"
"Something Rotten" was a part of the 2016-2017 Broadway Las Vegas season.