8/10/2017
Broadway Las Vegas / Performances and Artists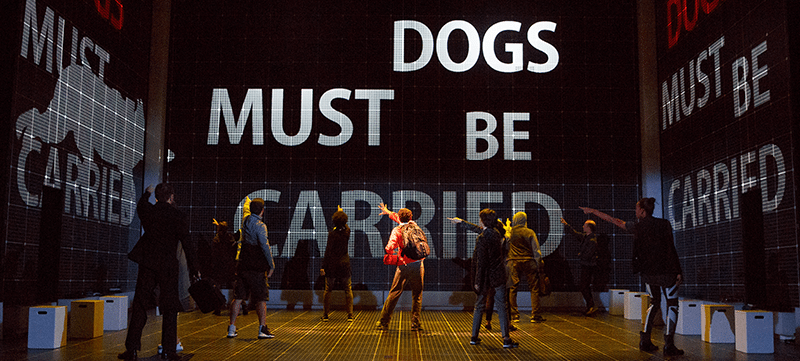 Broadway play "The Curious Incident of the Dog in the Night-Time" has people talking, and not just about its five Tony awards. While audiences tout its complex storyline — a modern-day detective story told through the eyes of Christopher, a boy with an incredible mind — many hail their surprise over the show's groundbreaking set design, featuring a goliath box rife with immersive visual effects and technology.
Set designer Bunny Christie spoke with The Smith Center about her fascinating approach to this unrivaled artistry.
What was your process in creating the innovative set design for "Curious Incident?"
I had read the book when it first came out, and loved it. So when (director) Marianne Elliott asked me to design the show, I said "yes" immediately.
I wanted watching the show to feel as much fun as reading the book. We are seeing the world from Christopher's point of view, and his brain is happiest when it's full of math and science, so it felt right to make the set a kind of Rubik's Cube of equations and algebra. The set is very precise and mathematical. It's almost a laboratory for Christopher to solve the mystery.
Where else did you find inspiration?
I wanted the design to celebrate the world of technology and how exciting that can be. I was looking at computer gaming rooms and clubs for inspiration. I wanted the set to feel like a box of tricks that can serve the storytelling quickly, and feel like a great place to be for an evening.
Was it difficult to design a set that isn't straightforward and naturalistic?
It's fun as a designer to have the challenge of jumping from outer space to the London Underground to a school room. Because there are so many different locations and imaginative spaces, it meant that the set had to be fast moving and not naturalistic. I wanted the design to be as fast as Christopher's ideas and thoughts.
Can you discuss how the set is integrated into the play's storyline?
The set is a playground for the company to tell Christopher's story of his investigation. The first half of the play is really a murder mystery. He imagines this is like a story and finds it exciting and fun.
The second half of the play is almost an action thriller. It's much darker. The set becomes a machine that fizzes and crackles with electricity. It's also a bit like computer games, which Christopher has to learn how to play without knowing the rules.
Can you describe what was involved with building the set? It looks like a lot of technology comes into play.
Yes! Inside and behind the set is a mass of technology and wiring. It's a bit like a big brain, with lots of synapses and neurons.
We have speakers and LED lighting built into the walls and floor, and projectors programmed with the show's content. The crew and the stage management running the show do a really great job making sure it looks and sounds great in each venue.
What experience do you hope the set gives people as they're watching the show?
I hope it feels fun and surprising and a little anarchic. I also wanted the design to feel as though you are inside Christopher's brain, so the audience gets a little sense of what his world feels like.
At times, everything is in order and working mathematically. That feels safe for Christopher. But very quickly, as his anxiety builds or things are out of his control, the set can tip over into a chaotic world where you don't know which way is up, and colors are too bright and sounds too loud.
Is there anything else you would like to add?
"Curious Incident" is a show that anyone of any age can enjoy. It's about family — something we all know about — and how complicated things can get sometimes. It's funny and sad and exciting and sweet.
It's my favorite show, and it's great to be finishing a year of touring in Las Vegas!