10/10/2016
Family Programming / Performances and Artists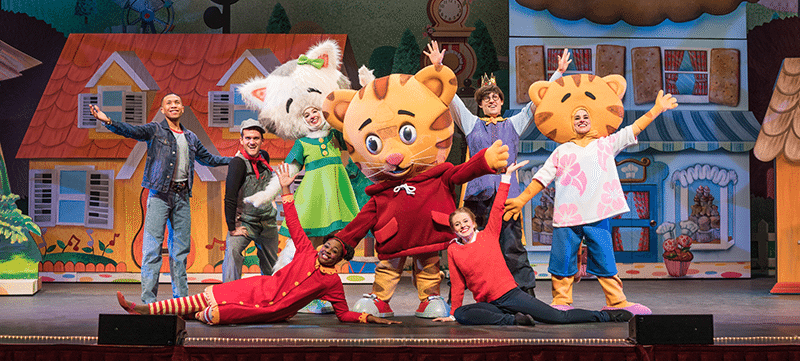 Ever wish there still shows around like "Mister Rogers' Neighborhood?"
Chat with most kids between 2 and 5, and you'll learn there is one. It's just set in a different neighborhood.
Daniel Tiger's, that is.
Down to the lead character donning the iconic red sweater and touting "it's a beautiful day in the neighborhood," the animated, Emmy-nominated "Daniel Tiger's Neighborhood" by PBS KIDS and The Fred Rogers Company recreates the musical lessons of Fred Rogers' original show.
With one key difference.
The Daniel Tiger show goes a full step further than the original in providing innovative opportunities for children to interact and engage with the show's characters, helping bolster lessons about empathy, responsibility and additional skills.
This includes providing a live theater production, "Daniel Tiger's Neighborhood Live!" in which actors portray the show's human and animal characters with its familiar themes and music. The interactive musical gives kids a fresh, active experience with the characters' adventures that include singing, dancing, laughter and "grr-ific" surprises, all based on concepts introduced by Fred Rogers.
"Fred Rogers has been both an inspiration and a major career influence for me. In effect, he created a blueprint for children's television that works," states Angela Santomero, one of the series' executive producers.
The live show isn't the only way kids can interact with Daniel Tiger. PBS KIDS also provides preschool-friendly digital content that invites kids to directly engage with show's characters. The fully interactive website offers activities and games that promote various skills and lessons, such as a characters acting out stories that kids can read along with, and a trolley-driving game aimed at helping kids address separation anxiety.
A Daniel Tiger game encouraging kids to help the characters with activities such as putting away toys and watering plants also recently became available on the free PBS KIDS Games app.
Daniel Tiger's many adventures have an impact. A new study by Texas Tech University found kids who watch the show have higher levels of empathy, are better at recognizing emotions and feel more confident in social situations.
If Fred Rogers were alive today, he would surely be pleased with the show's new manifestation and its many efforts to engage children. Whether they are watching a TV, singing along in a theater or clicking on a computer, children are still learning many ways to be a good neighbor.
"Daniel Tiger's Neighborhood Live!" was a part of the 2016-2017 season.