2/1/2019
Performances and Artists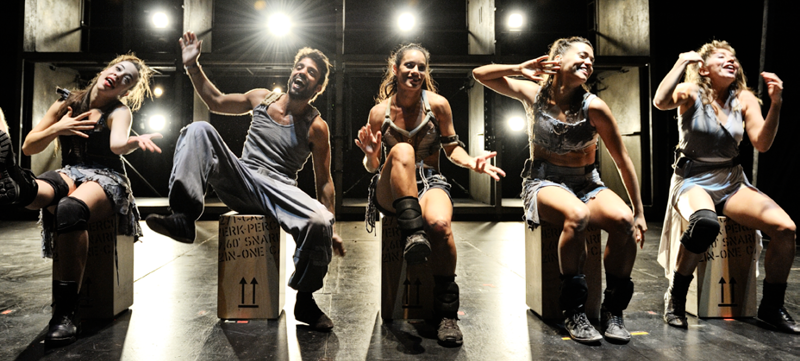 World-Famous Percussion Dance Troupe Performs New Show
Twenty years ago, Israeli musician Boaz Berman had a vision for a show that didn't exist anywhere else. He wanted to merge all of his hobbies and interests, spanning music, rhythm, movement and technology.
"I wanted to create a group that would do everything," Berman says. "You would see someone sing and see someone play music, and then see acrobatics and break dancing." The groundbreaking percussion dance troupe Mayumana is the result of his daring ambition. Based in Tel Aviv, this multi-faceted group has gone on to perform for millions worldwide, with an immersive, high-energy style compared to Stomp and The Blue Man Group.
Mayumana is now tackling its first-ever tour across the United States with its literally electrifying new show, "Currents" portraying the historic battle between Thomas Edison and Nikola Tesla to find new energy sources.
With the show headed to The Smith Center on April 12, Berman promises to leave audiences feeling exhilarated.
"(Audiences) leave feeling energetic, like they want to dance and play," he says.
Percussion, Movement and Multi-Media – Oh My
Audiences won't have any excuse to be bored at Mayumana's "Currents," featuring two troops using innovative choreography, music and visual effects to convey different views of light and electricity.
This visually stunning production includes 11 skilled performers engaged in constant movement, as well as massive video art projections and musicians playing custom-made instruments.
"We knew it helps when you build a show that has a story behind it," Berman explains. "We chose this because it's about energy, and how when two different (sources) are emitting energy, they can work together and create harmony in the end."
While percussion is a strong focus of the show, the performers aren't limited to instruments.
"We create different sounds with different elements. We play on cubes and water and on our bodies," Berman says. "We try to make music from everything around us."
The creative team carefully designed the show's large-scale video projections to reflect the performers' choreography, he adds.
"We played with (the projections) to emphasize what's happening on stage," he says. "So it gives it another dimension."
A Cast with a Global Perspective
While the group is based in Israel, Berman doesn't see Mayumana as representing any one country.
With the group's cast hailing from across the globe, he says, they all influence Mayumana's style with their unique national perspectives, spanning the Middle East, Europe, South Africa and more.
"We hold auditions everywhere we go around the world," Berman says. "The cast is really doing what they like to do on stage. They don't need to play roles. They're playing themselves, and they're enjoying it."
Casting the show is the group's greatest challenge, he adds.
Auditions usually begin with testing performers' singing and dancing abilities, then challenging them to learn the show's choreography on the spot.
"We try to catch people who have the talent to learn," Berman says. "With 20 years of experience in this, we know very fast (who will work)."
While it can take months for performers to learn all the skills required for the show, Berman says, it's always worthwhile.
"What we try to do is make people happy," Berman says. "We take (audiences) through a journey of sound and movement."
Mayumana performed as part of the 2018-2019 season.