4/27/2015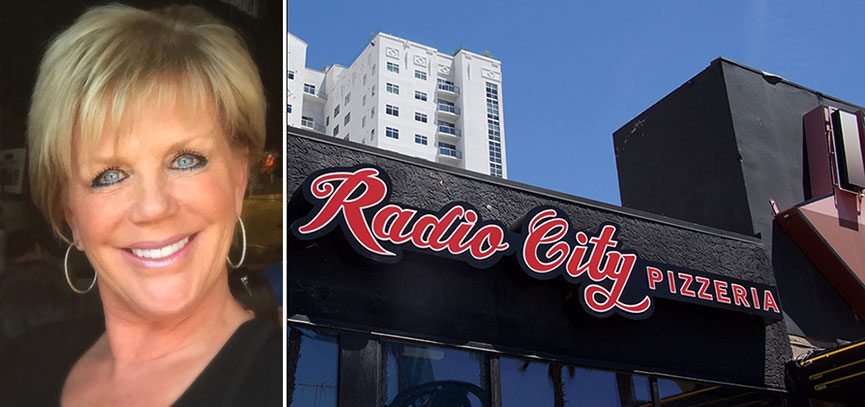 Of The Smith Center's valued donors, few have a background story quite like Jody Ghanem. Not only was she one of the famous Rockettes – high kicking in New York City and beyond – she also owns Radio City Pizza, a popular Fremont Street eatery.
We asked Ghanem a few questions to learn more about her life and her involvement with The Smith Center.
How long has The Smith Center been a part of your life?
I have been involved with The Smith Center since the first luncheon Don Snyder hosted to raise money for the capital campaign. I am proud to be a member with my family, friends and colleagues. The journey of watching a world-class performing arts center go from ground breaking to opening night has been a highlight of my life to this day.
How have the arts made an impact on your life?
The arts have been a part of my life since I was three years old. I loved ballet and was in the Orlando Ballet Company at age fifteen. I wanted to become a member of the American Ballet Theatre in Manhattan, so I graduated high school a year early. Then an audition came available with the Rockettes at Radio City Music Hall. It was my first audition, and I passed. So I had to make a decision … I chose to go with the Rockettes.
What was it like being a Rockette?
I was the youngest Rockette at the age of seventeen. I was hired as a summer replacement and stayed for seven years. The experience was every girl's dream that loved to dance, and here I was performing on this great stage. The Rockettes are a part of American history. This year they celebrate their 90th season. We worked with Glen Campbell, Frank Sinatra, Bill Cosby, Bob Hope, Wayne Newton, Sammy Davis, Jr., Merle Haggard, Mel Tilis and, of course, Liberace. We also worked for Mr. Harrah at Harrah's Lake Tahoe and at the Royal Albert Hall in London.
What is your involvement in the Las Vegas community.
Liberace hired me to dance in his show in 1979 at the Las Vegas Hilton. He introduced me to Dr. Ghanem, whom I married. The Las Vegas community has been my home for more than 36 years. I have been involved in health care, politics, the arts, education and the revitalization of Downtown that the City of Las Vegas initiated. The community has been wonderful to me and I am forever grateful.
You own a restaurant, Radio City Pizza, not too far from The Smith Center. Can you tell us about it?
When I danced at Radio City Music Hall, we lived on pizza! We needed those carbs for energy with our famous high kicks in four shows a day, seven days a week.
With Radio City Pizza, we brought some New York history here to Las Vegas. It's fun. We have a new operations team and a nice variety on the menu. It's located on Fremont Street and is a part of Downtown's revitalization.
You recently saw a preview of a few scenes from our upcoming original production IDAHO! The Comedy Musical. What did you think?
How fabulous it would be to have a Broadway show start at The Smith Center? IDAHO! can do that. I love the story line. Myron Martin, I applaud what you are doing for our great city and state. Cheers!