8/26/2020
Education and Outreach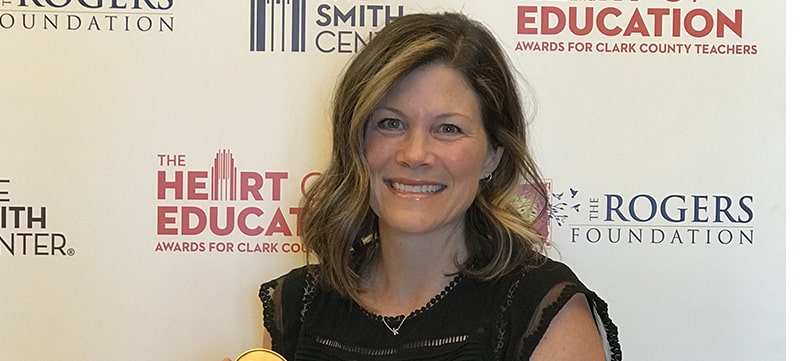 As librarian with Dr. Beverly S. Mathis Elementary School, Kari Bastin will provide crucial support with remote learning in the new school year.
That includes checking out devices to students for accessing the virtual curriculum at home. She will make personal calls and organize virtual meetings to ensure families can use the technology without issues.
Bastin will also offer remote help to support children in discussing literature, and will coordinate curbside pick-up for checking out new books.
"It is so important that students have access to resources, so I will be reaching out regularly," she says.
Bastin has impacted her school in many other ways.
She also created the school's Best Buddies program, providing inclusive experiences where students with intellectual and developmental disabilities interact with their peers.
"The program allows students to feel valued and included at a young age," Bastin says.
To recognize her relentless commitment to students, The Smith Center honored Bastin as one of the top 20 teachers for its fifth-annual Heart of Education Awards, celebrating outstanding Clark County School District (CCSD) educators.
Bastin and the other honorees each received a $5,000 cash award, thanks to generous support from The Rogers Foundation. Each award recipient's school will also receive a $1,000 donation.
"I am so incredibly proud to be a part of a group of people that is being recognized for their heart," Bastin says. "So many things in life have become scientific or data driven, and this award is based solely on the heart of the work. What better way to celebrate an educator?"
Helping Students Lead
Bastin dives into every opportunity to help students.
She has run the school's student council for the past several years, nurturing students' leadership skills in organizing fundraisers, food drives and school events.
Bastin has worked hard to keep this going during the pandemic.
"It was also a priority for me to try to meet virtually with the student council and ensure they were able to have some leadership opportunities, such as planning school-wide activities," she says.
Forging Friendships From a Distance
Bastin's Best Buddies program allows any students — including those with and without disabilities — to participate in bimonthly activities like buddy reading, movie nights and crafting.
She has often seen students connecting with their new friends from Best Buddies on the playground.
"This program teaches children about compassion and empathy," she says. "Building and running this program at the elementary school level has become a labor of love, because of the impact it has had on the students."
She plans to maintain it even during remote learning, she says.
"Connecting students and building friendships will be done through specific activities on Google Meets," she says.
Bastin remains confident that she and her fellow CCSD educators can still give students a well-rounded education this year.
"So many educators do what they do because they love the work, the students and the possibility that they could make the world a little bit better each day," she says.