2/23/2018
Community Impact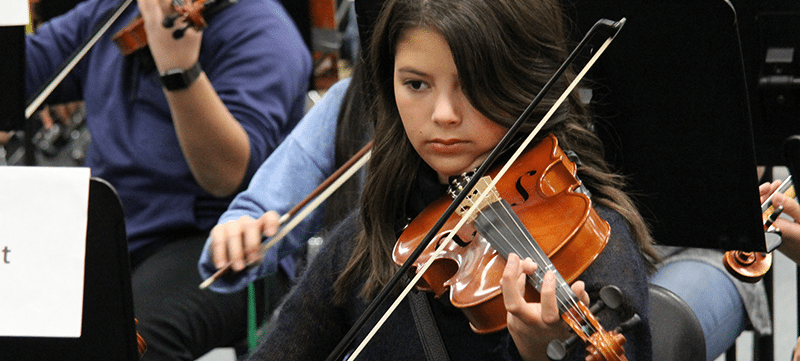 When Doug Van Gilder looks back on his journey to becoming manager of the Las Vegas Philharmonic, he notes the influence of one inspiring mentor.
First entering college as a music major unfamiliar with many performance basics, Van Gilder was taken under the wing of his bassoon teacher, who helped him advance so quickly he soon joined a professional symphony.
"That person saw something in me and decided to spend a little more time working with me," remembers Van Gilder, whose rural high school had offered limited music training. "I would never have thought at that stage that I would become the manager of the Las Vegas Philharmonic."
It's just this kind of impact Van Gilder hopes to have through his additional role, as executive director of Las Vegas Youth Orchestras (LVYO).
An after-school program, LVYO provides empowering musical coaching and ensemble-performance experience for hundreds of Southern Nevada children and youth, many of whom couldn't otherwise access this level of music training.
Most participants, Van Gilder notes, go on to higher education and successful careers that he believes stem from the lessons they experienced in LVYO's ensembles.
"These orchestras help them develop discipline and teamwork and doing a little extra to pursue what you love," he says. "This is good training for life in general."
Comprehensive Musical Training
Initially created by Clark County School District as Sunrise Symphony in 1975, LVYO has grown to now include over 425 participants spanning 8 to 18 years old.
Managed by nonprofit Friends of the Las Vegas Youth Orchestras, LVYO's participants hail from across Southern Nevada — including Moapa, Laughlin and Bullhead City.
"They have nothing in their own areas that's like this," Van Gilder says.
Aiming to help young musicians advance from beginner to advanced levels, LVYO offers five different ensembles for specific ages and playing abilities.
Each ensemble prepares musicians for the next playing level, training them in skills like sight-reading while they rehearse music that will engage their interest and prepare them for more challenging pieces later.
"Someone can start in third grade and continue through all the levels," Van Gilder notes.
Each ensemble also includes music coaches who work with every instrument section on difficult music passages and performance skills.
"A lot of kids don't take lessons because they can't afford it," Van Gilder explains. "This allows them to get something out of the experience besides sitting and being frustrated because they don't understand everything."
True Performance Experience
Van Gilder assures the skill level of LVYO musicians is highly impressive.
That's why he takes pride in organizing LVYO's annual spring concert at The Smith Center, with this year's concert approaching on April 17.
"We truly believe in giving participants the full experience of a musician," Van Gilder says.
The upcoming concert will include a performance by the winner of LVYO's annual concerto competition, an event that allows top-level LVYO musicians the experience of performing memorized concertos.
"It's confidence-building to be able to stand on stage and perform in front of people," Van Gilder points out.
He strongly encourages community members to see the LVYO ensembles perform, he adds.
"If people saw what these kids are doing, it would change their views," he says.