10/24/2018
Performances and Artists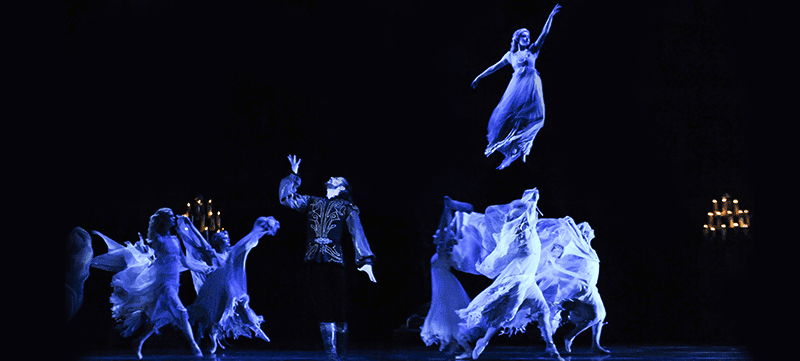 Audiences who think they know everything to expect from story ballets (a form of ballet with a plot and characters) should probably check out Nevada Ballet Theatre's (NBT) production of "Dracula," running just in time for Halloween from October 25 to 28 at The Smith Center.
While long-beloved story ballets like "The Nutcracker" and "Swan Lake" are known for their sweetly romantic narratives and innocent characters, the darkly engrossing "Dracula" invokes a starkly different approach.
This tantalizingly twisted ballet that premiered in 1997, created by Houston Ballet's then-Artistic Director Ben Stevenson, offers stunning visual effects and a dramatic take on Bram Stoker's chilling tale, offering a dramatic and mesmerizing experience that appeals to both traditional ballet goers and newcomers alike.
Bringing this haunting story to life isn't easy, as revealed in The Smith Center's interview below with Dominic Walsh, the professional répétiteur who staged NBT's production of the ballet.
Can you describe what makes this ballet unique, in terms of choreography and costuming?
Dominic: I think this ballet demonstrates a unique kind of storytelling, in that although it's a dark subject matter with a contemporary feel, it's designed in a classical ballet narrative.  
Ben Stevenson is able to take a classical format and still make it relatable and honest in its delivery. The costuming by Judanna Lynn seamlessly follows suit, in bridging the classical with a current feel.  
The production photos look like there is a lot of focus on presenting an eerie and grand theme.
Dominic: Ben is a master at storytelling and creating the feel of a screen, holding the drama together as the viewer gets pulled into the action.  
Is a great deal of makeup required to transform the performers? How much time does it typically take them to get into full makeup?
Dominic: In the beginning it can take 60 to 90 minutes, but it lessens as they get used to it.
This ballet includes special stage effects! Can you discuss any of these, and what's involved with creating them?
Dominic: There are characters who fly in some scenes, and an explosion toward the end of the production that is quite dynamic.  
But I think what I appreciate most is the classic, theatrical special effects that are produced by clever staging and lighting. That's where the brilliance is, for me.  
Are there any special challenges to staging this ballet, especially since it has such a theatrical quality?
Dominic: The dancing itself is very challenging. Very tricky partnering techniques are needed, and great stamina for all of the principal roles.  
Within that, each step must have the voice of the character behind it, so as the stager, I have to find the most effective way to access those ideas in the interpreters of the roles.  
The soloist and corps de ballet roles are very important, and more challenging than most ballets. There are no small parts in a Ben Stevenson ballet.  
Can you discuss how this ballet has a different vibe than traditional ballets? Some tend to think of the ballet with the stereotype of pink tutus and tiaras, and it seems like this ballet defies that image.
Dominic: The esthetic looks more like a neo-classical ballet. There are no tutus, but the entire ballet is en pointe, so the vocabulary of movement has more of a believable pedestrian quality, rather than a ballet like "Sleeping Beauty," where the objective is to create a floating fairytale world of princesses and fairies. 
What is a particular highlight of this ballet, that audiences should be sure to watch for?
Dominic: Be sure to watch Dracula after he flies up to the chandelier in Act III…
Is there anything else you would like people to know about NBT's performances of Dracula?
Dominic: I think sharing our stories is what connects us as a species. In theater, when we are transported into a world with characters we care about or are interested by, and the interpreters are committed and the direction and writing is coherent, we can experience the commonality of the human experience.  
We feel what the actors are feeling, and we are reminded of the power of art and storytelling.  We can all afford to be more human, more compassionate, more empathetic. Good storytelling can do that, and I can see that the dancers at NBT are fully up to the task. I'm excited.