9/13/2018
Performances and Artists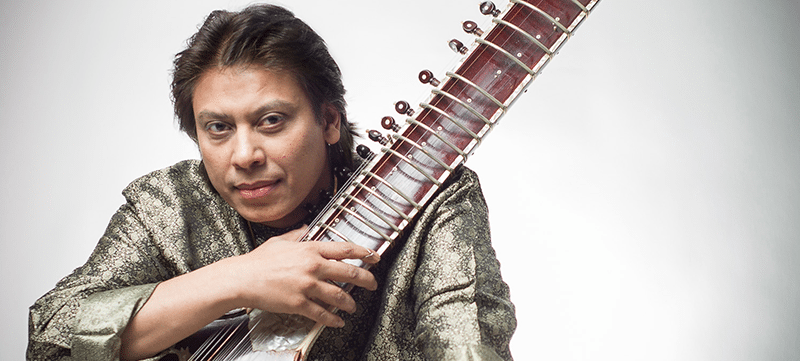 A Centuries-Long Heritage
When Ustad Shafaat Khan says music runs deep in his family history, the acclaimed Indian classical musician isn't kidding.
Khan's forefathers are hailed as shaping classical Indian music as far back as the 16th century, after a poet and musician named Amir Khusrow Dehlavi invented instruments like the sitar (a long-necked Indian lute) and introduced a new musical style that's now intrinsically tied to India.
Khan's ancestors even defined the standard for classical stylings on sitar, still played today.
"They were considered the greatest sitar players of their time," Khan explains. "They were like the Bach and Beethoven of their time."
Now a renowned musician himself who has performed worldwide and with legends like Stevie Wonder, Khan has dedicated his life to preserving and sharing this classical heritage.
Performing at Myron's Cabaret Jazz on November 2, Khan promises a journey across Indian musical tradition that he enjoys sharing with international audiences and Indians, alike.
"I feel coming from this dynasty, it's my duty to preserve this beautiful art and music," he says.
Building On a Legacy
Khan teases that he first heard classical Indian music in the womb, by overhearing his father, prominent Indian musician Ustad Imrat Khan.
Raised in India, the younger Khan grew up surrounded by the country's top musicians who visited his father, he adds, exposing him to the full potential of Indian instruments.
This inspired him from a young age to master three instruments, the sitar, tabla (Indian hand drum) and surbahar (bass sitar).
This is a rarity in India, where most artists only study one instrument.
"In the Western world, you might learn flute and piano and guitar, but in India, it's different," Khan says. "There are only solo sitar players or solo tabla players."
To his knowledge, he is the only Indian musician to perform professionally on all three instruments.
"I had this ambition that my family is so great in sitar and singing, what can I do to take this level of musicianship to another level?" he says.
From Royalty to Deepak Chopra to Stevie Wonder
Khan's lifelong dedication has led to impressive opportunities, including touring Asia with his father at a young age, and giving his debut solo show for the queen of England.
Renowned author Deepak Chopra even produced a number of Khan's albums with musical themes corresponding to Chopra's strategies for a balanced life.
And Khan will never forget playing alongside Stevie Wonder for a world-music performance at the Bonnaroo Music and Arts Festival.
"It was an amazing, emotional experience for me," Khan says. "Not just because I was playing with Stevie Wonder for millions of people, but because I've been a fan of Stevie Wonder's since childhood."
A Concert That Journeys to the Past
Audiences who attend Khan's November concert can expect an authentic, uplifting exploration of India's musical history.
Singing in both English and Urdu and alternating between his three instruments, Khan will perform classical Indian music dating as far back as the 13th century, when Amir Khusrow Dehlavi first introduced these musical styles to the Indian region.
The show will include Khan performing a complex tabla drum solo, his family's ancient works, and melodies paired with poetry by famous Persian poet Rumi.
"I'm very proud to share this music," Khan says.
Rounding out the show's East Meets West theme, Khan will perform alongside accomplished artists on Western instruments like guitar, bass guitar, keyboard, hand drum and English vocals.
Not only do these performers hail from different musical backgrounds, Khan says, but also from many religions, spanning Islam, Hinduism, Christianity and Judaism.
"We are all playing and harmonizing beautifully to show the world we can live with love and peace with music," Khan says.
"Ustad Shafaat Khan – East Meets West" ran in November of 2018 in Myron's Cabaret Jazz.