8/16/2018
Supporting the Arts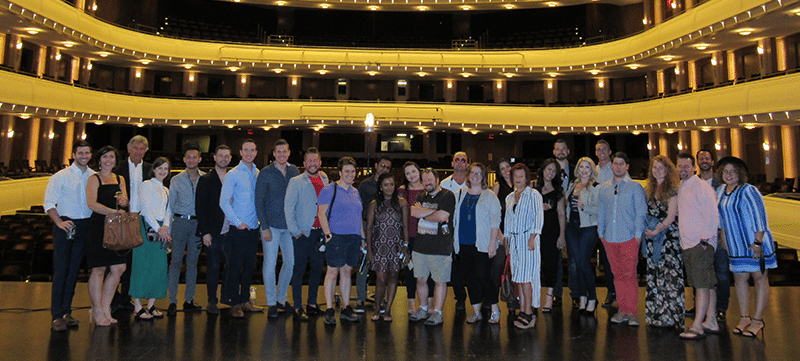 Arts lovers from across Southern Nevada mingled eagerly at the Season Kick-Off for Fanfare! at The Smith Center in late June, many sipping drinks and wearing broad smiles. All rising professionals from a variety of industries, they were quick to compare their favorite concerts and Broadway shows.
This was just the lead-up to the real treat: A special backstage tour of The Smith Center, including visiting dressing rooms and exploring the orchestra pit in Reynolds Hall.
Many who participated, like real estate agent Cory Hentzen, were dazzled.
"It was such an amazing afternoon at The Smith Center, getting (to experience) the behind the scenes of operations," Hentzen says. "I'm excited for the 2018-19 Fanfare! season, with so many young professionals in our city dedicated to investing in the arts."
She and the other participants had reason to be excited.
Exclusive arts-and-culture events — plus special ticket savings — are in store this season for members of Fanfare!, The Smith Center's affinity group for emerging leaders advocating for the arts.
"We want to give Fanfare! members a fun experience, on top of the opportunity to build a relationship with The Smith Center," says Fanfare! Co-Chair Travis Turner.
A New Season of Shows and Experiences
The Smith Center launched the affinity group Fanfare! two years ago as a pipeline to connect with the next generation of arts lovers who are 21 and older.
Its co-chairs now plan to build on this, offering Fanfare! members a full lineup of opportunities to engage with the arts.
"We hope to celebrate and advocate for the arts in Las Vegas as a whole," Turner says.
The $250 contribution for Fanfare! membership also includes tickets to three acclaimed shows at The Smith Center, including electric violin show Femmes of Rock, energizing holiday show "DRUMline Live Holiday Spectacular" and hilarious Broadway play, "The Play That Goes Wrong."
Each show will include a special networking event where members can mingle with other performing arts lovers and even Smith Center leadership.
Fanfare! members can also expect more opportunities to experience the arts-and-culture scene throughout Las Vegas, says Co-Chair Kady Casullo.
"I think we can blow Fanfare! events out of the water," she says.
LEARN MORE
If you or someone you know might be interested in Fanfare! at The Smith Center, please CLICK HERE to learn more.