6/15/2017
Community Impact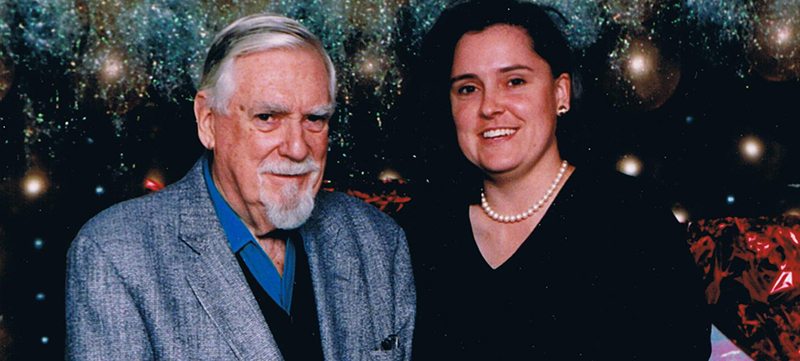 Perhaps you've bumped into Judge Kathleen Delaney at the one or two (or more) shows a month she sees at The Smith Center.
Maybe she has bought tickets for you and your children to see a family production here.
She might even dish you the latest scoop on shows just added to The Smith Center's website.
Bottomline, if you've met Delaney — one of The Smith Center's top ticket buyers since it opened — you probably know she's not only a die-hard fan, but she wants you to be one, too.
"I think the arts are so important to our education, our mental health, our happiness," says the Las Vegas native and district court judge. "If we don't expose ourselves to the arts as much as possible, we're really losing opportunities that can have a profound impact on our lives."
An Entertainment Legacy
Delaney has good reason to love the arts.
Many will recognize the name of her late father, Joe Delaney, the Las Vegas Sun's beloved entertainment critic from 1967 to 2002.
Throughout her upbringing, Delaney tagged along with her father to shows and concerts at every venue in town, including some he produced and directed himself.
"I got to see Elvis on multiple occasions, Dolly Parton the first time she performed here, Frank Sinatra and Tony Bennett multiple times," she recalls. "My father had developed friendships with many of these people throughout his career."
This instilled in her a lifelong passion for performances. In college, she even studied theater and spent a summer in London taking in the top West End shows.
When she eventually heard about plans for The Smith Center, she knew it was just what she and many others, including her father, had been longing for in Las Vegas.
"He passed away before I was elected to my current position, and prior to The Smith Center being built. My two biggest regrets are he never got to see either of those," she says.
Paying It Forward
Although Broadway shows remain her No. 1 draw, Delaney sees it all at The Smith Center.
She enjoys Cabaret Jazz concerts, Las Vegas Philharmonic performances, Nevada Ballet Theatre productions, and guest speakers.
Also a donor, she wants to make sure others enjoy these shows, too.
"I think I'm paying it forward, the experiences I had when I was younger," Delaney explains.
She does so by often purchasing tickets for friends with children to see Smith Center family productions.
She also buys tickets for friends to see Broadway shows, and coaxes them into becoming season subscribers like her.
She has even gone to shows multiple times to ensure her friends go, too.
"I saw 'Beautiful' multiple times, I saw 'The Book of Mormon' multiple times, I saw 'Wicked' multiple times," Delaney says. "My friends will joke that I need to cut myself off."
Excited for upcoming productions such as "Hamilton," Delaney's list of people she brings to shows is ever growing.
"Hopefully people will take the time to connect to (The Smith Center) in a way that it continues to grow," she says.