10/9/2017
Performances and Artists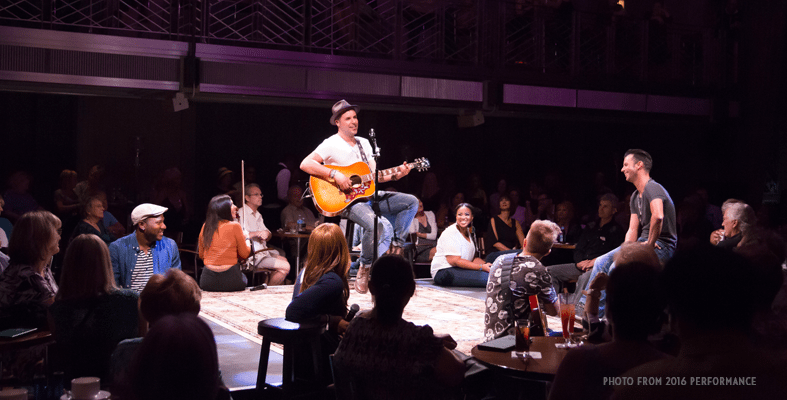 Gathered backstage before their show Tuesday night at Myron's Cabaret Jazz, Las Vegas headliner Frankie Moreno and his band felt at a loss.
Overwhelmed by the recent tragic event where they had lost loved ones, and knowing residents citywide were experiencing the same, they felt that waltzing on stage and performing their planned set list of high-energy tunes was simply wrong.
"I've never canceled a show in my life, but we didn't know if we should," Moreno says. "We were backstage and this is all we were talking about. This is at the forefront of the world right now."
Recognizing this, Moreno and the band members came to a simple decision.
They would throw the set list out the window, tune into the emotions of the crowd and play whatever felt right.
"Music helps you heal, even if you're driving in your car and it reminds you of a date or a parent. It's the most powerful thing in the world," Moreno explains. "I wanted to bring whatever I could to the table, and that's what I could bring."
This speaks to what many performers and audiences across Las Vegas and the nation have found in recent days.
In the midst of dark times, music and theater can play a healing role, drawing people of all backgrounds together to share an experience and enjoy welcome relief.
"This show turned into a scenario of the audience becoming one entity, myself included," Moreno says. "It felt magical and peaceful, and safe."
Playing to Emotions
This was a show like no other Moreno and his band had performed at The Smith Center, he says.
They scrapped their usual introduction of a blazing light show and a rocking lead-in for Moreno.
Instead, he entered the stage solo with no introduction, to perform "Bridge Over Troubled Water" on piano.
"I could see a lot of tears from the audience," he says. "I could feel not sadness, but emotion."
The artists proceeded to follow the moods of the audience to perform a full show on the fly.
This spanned crooning inspirational melodies like "Sending Me Angels," pulling up country artist Scotty Alexander on stage to play an original piece, and lightening the air with pop staples to "make people smile again for a minute," Moreno says.
The hundreds in the room connected, he adds, when the band performed "Drift Away" on a whim.
"The whole audience just sang together," he says. "It was just a reminder that you can get lost in a moment."
Gaining Strength
Moreno wasn't alone in feeling unburdened through performance.
Myron Martin, Smith Center president and CEO, says people approached him on Tuesday night with warm reactions after seeing Moreno's concert and Broadway show "The Little Mermaid."
"Multiple people told me, 'Thank you so much. I almost didn't come tonight,'" Martin says.
He hopes many more find uplifting experiences in the coming days at The Smith Center, nicknamed Las Vegas' living room.
"2,050 people left here last night feeling a little better, and they will again tonight, and the next night," Martin says. "The living room of Las Vegas is serving as exactly that."