1/18/2018
Discovering The Smith Center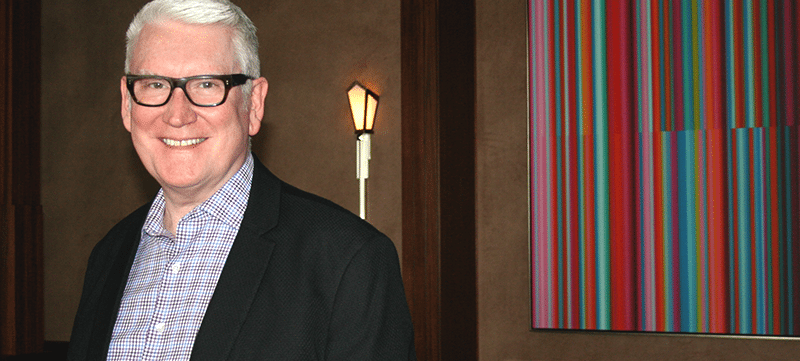 The Smith Center's Director of Guest Experience Hails from Global Performing Career
Adrian Little knew the performing arts would drive his life since early childhood.
That's because the suave Englishman grew up in a musical household in Cheshire, England, with his mother a professional opera singer and his father an acclaimed jazz pianist.
"I would go on tour with them when I was young," he recalls. "I was exposed to theater from my very earliest memories."
It's no surprise Little went on to lead a dazzling career performing around the world, including as a singer and dancer in the classic Las Vegas show "Jubilee."
He is thrilled to bring this rare expertise with the performing arts - as well as his service skills from working with The Four Seasons - to his role as director of guest experience with The Smith Center.
"My career became full circle when I had the opportunity to come here," he says. "I'm able to work with my knowledge of excellent customer service, plus be in the atmosphere of the arts, which is where my whole life began."
Rome's Next Top Model
Little jumped into a performance career after a full childhood of training at a special performance school. His mother personally coached him in singing.
His first professional experience was a glamorous one, modeling in Rome, Italy. He also acted as a movie extra, including films by renowned director Federico Fellini.
"One of them was 'Casanova,' one of Fellini's more famous films," he remembers. "I had to learn Italian very, very quickly, because there weren't a lot of people speaking English in those days."
Performing Worldwide
Little earned his break after returning to his home country.
He earned a role singing and dancing with a high-profile BBC TV variety show, which also toured as theater production.
"It was (a rigorous schedule)," he recalls. "I'd be rehearsing Thursday through Saturday to do a taping on Saturday night. Then we were back on the road touring every Sunday through Thursday."
His hard work paid off, leading to opportunities to perform on multiple world cruise lines, visiting countries spanning South Africa, China, Australia and more.
"I just loved the travel," he says, adding that cruise lines offered countless performing opportunities. "I performed leads in productions like '42nd Street' and 'Phantom of the Opera.' I also did my own cabaret act with a 10-piece orchestra."
Coming to America
Little gave up the high seas for an opportunity he couldn't turn down: a coveted singing and dancing role in iconic Vegas show "Jubilee."
He performed with the production for most of the '90s, which he lauds as the show's final glory days.
"In those days, it was the show to be in. Cirque du Soleil had not yet arrived," he points out. "We had to audition every six months just to keep our parts in the show."
Serving The Public – With Style
Little's performing experience would prove helpful when he transitioned to a concierge role with The Four Seasons.
"It was like being on stage every day," he says of presenting the highest-quality service. "The Four Seasons has a reputation as being one of the greatest hotels in the world."
He moved up the ranks quickly, eventually managing the whole concierge team.
"The greatest thing I learned is you always have to put yourself in the guests' shoes," he says. "It really is all about the guest, being empathetic and making sure they have a memorable experience." 
Enhancing the Guest Experience
Little applies these same philosophies to his new role at The Smith Center.
As director of guest experience, he focuses on elevating guest services overall, including providing more personalized engagement for guests with feedback.
He has many goals, including implementing staff-wide training on the nonprofit's values and mission.
"Our goal as a team is to set an example of excellence for performing arts centers in the U.S.," he says.