1/19/2018
Performances and Artists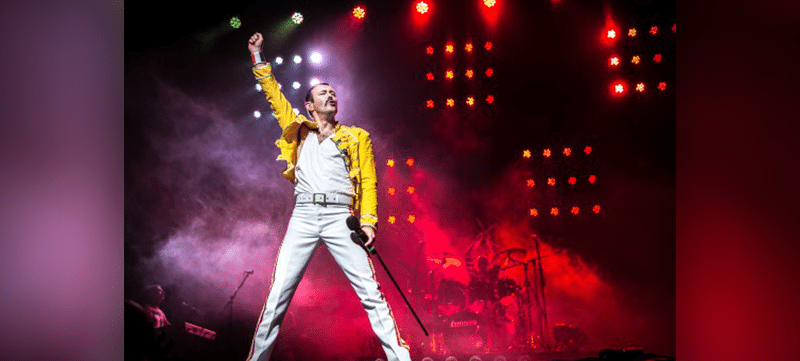 British singer Gary Mullen has performed for packed venues across several continents for nearly 20 years.
But not as Gary Mullen.
Donning Freddie Mercury's distinctive ensemble of gleaming white pants and tight tank top night after night, Mullen has conveyed the pop icon's bravado and vocal calisthenics around the globe with his tribute show One Night of Queen, setting the bar each night at "blowing the doors off."
"The energy level has to be 100 percent every night, because Freddie was 100 percent every night," Mullen emphasizes.
Currently launching his eleventh American tour with One Night of Queen, which hits The Smith Center on February 24, Mullen gives credit where it's due.
None of this would have happened without his mother.
Under Pressure
Prior to 2000, world tours were the last thing on Mullen's mind as he performed in local amateur bands.
Recognizing his daunting vocal range, his mother secretly applied for Mullen to perform on British reality TV singing competition "Stars in Their Eyes."
His selection to compete came as a complete shock — as did the detail that this show was for impersonations only, with Mullen tapped to perform as Mercury.
"Terrified," Mullen recalls of how he felt. "It's a whole different ballgame to be on a TV show and suddenly the entire country is watching you perform."
It was also pure luck, with Mullen a lifelong Queen fan.
"I was always listening to Queen anyway," he says. "I think their music is timeless, and every song is different, because it was four individual songwriters who brought different elements."
Preparing by "listening to a bit more of Freddie than I normally would," Mullen won the competition in a landslide, his spot-on vocal impression and rollicking performances garnering the show's record number of audience votes.
"It was just an amazing experience," Mullen says.
The Show Must Go On
Mullen's success on the show, paired with his diehard Queen fandom, determined the fate of his singing career.
"The offers kept coming and coming – 'can you perform here,' and 'can you perform there,'" he recalls.
He jumped on this support by cobbling band The Works in 2002. He created a tribute show carefully, aiming to perform Queen's numerous hits "tastefully and seamlessly," he says.
Just a few tunes audiences will likely hear include "Somebody to Love," "Bohemian Rhapsody" and "Under Pressure."
"No one writes anything like that anymore, and it still seems to hold onto the public consciousness," Mullen says. "We get a lot of young kids who know every single word."
Creating A Kind of Magic
Recreating Mercury each night on stage is a process, Mullen admits.
He commits to a rigorous weightlifting and yoga regimen, finding that fitness supports his performing ability.
"The songs are vocally challenging. There's no hiding place," he admits with a laugh. "It's all about physically and mentally preparing."
What can audiences expect at this show?
"They can expect not to sit down," Mullen says. "We're going to come out with guns blazing and rock the audience."
One Night of Queen was a part of the 2017-2018 season.