5/1/2016
Education and Outreach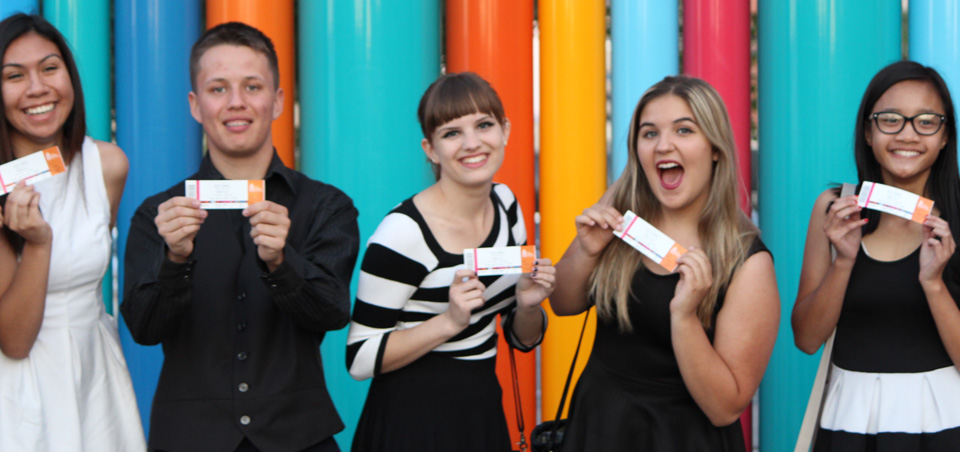 First, there's the learning. Then, there's the connection. And finally, the possibilities. That's the world of fine arts, and in Las Vegas, the learning begins with the Clark County School District.
Secondary fine arts students are immersed in studying the various arts disciplines, including dance, music, theater, and the visual arts. It is the combination of motivated teachers and targeted curriculum that enhance the learning experience.
Next is the connection. The Smith Center's "Access to the Arts" program engages with the District to offer a unique complement to learning, an opportunity for selected students and teachers to enjoy an evening of performances from world-class artists. The "Access to the Arts" program is funded through a generous gift from Wynn Las Vegas. This year alone, performances of The Royal Philharmonic, Symphonic Rock Show, The Tenors, Yanni, and Kristin Chenoweth were offered to students, based on their relevance to the various art disciplines and the opportunity for connections to classroom curriculum.
What is the connection between students and professional performers at The Smith Center? It is the opportunity to see what has been studied in the classroom or studio take life on the stage. It is professional performers making the connection between learning and doing, between studying and executing, between theory and theatrical reality.
Dr. Kimberly Aitken, dance/health teacher from Durango High School, sees that connection and the possibilities that the performances of these artists offer. It was an inspiration to her students who were able to see Kristin Chenoweth's recent performance in Reynolds Hall. "Everything that I taught them about owning and really understanding what you're performing, whether it's a happy piece or whether it's a more emotional piece, you have to really project that with your performance, through your face, through your body movement...they were able to see her do that."
Cross genres are fine, says Dr. Aitken, because the basic elements are there whether for song or dance. Her dance students appreciated Chenoweth's performance through song, as she showed the importance of stage presence, looking confident and including the audience.
"They were in awe of her and that's what is going to push some of them to the next level and some of them to continue with this passion of theirs when they see what the potential could be and what their potential could be."
Dr. Aitken's own view of Chenoweth's performance? "She was amazing, to say the least, and our students will never forget this incredible opportunity."
The old adage: preparation plus opportunity equals success. And, for those who are ready, it could be a short distance from those front row seats at The Smith Center to the stage itself.