3/20/2017
Performances and Artists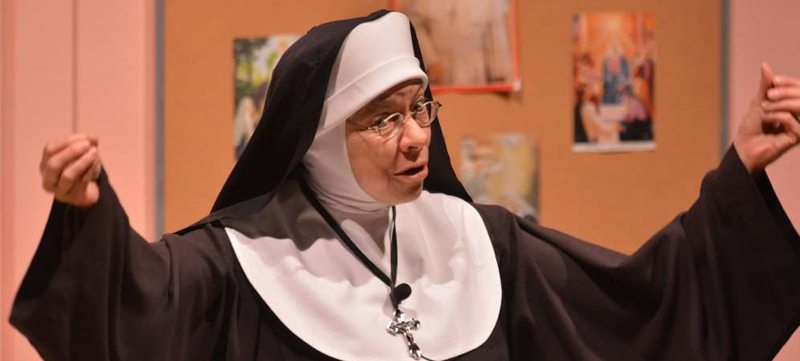 Ask Nonie Newton-Riley to recall a classic moment of audience interaction during one-woman comedy show "Sister's Easter Catechism," and she can instantly name one.
"Just the other night, one woman asked, 'I've heard that nuns have babies and they hide them,'" the seasoned actress recalls.
Not saying a word, Newton-Riley – playing nun "Sister" and dressed in full habit – walked to the desk on set.
"I looked under the desk and went 'nope,'" she says. "It's always like that. You never know what someone is going to ask you, and you'd better be ready."
Lightly satirizing Catholic rules and traditions, the hit show Newton-Riley performs across the U.S. is an improviser's dream.
While the show — set up as a nun giving a classroom lecture on Easter — is loosely scripted, it's predominantly off-the-cuff audience interaction.
Audience members might find themselves pulled onstage for a venial-versus-mortal-sin game (complete with paddles). They might be given a pop quiz, or get called out for misbehaving.
"The trick to being good at the show is listening. You're not just yapping away, you're constantly asking questions, your eyes are moving to catch somebody doing something," Newton-Riley says. "I don't feel like I'm doing a one-woman show. Quite the opposite. I have a room full of co-stars."
This is a perfect fit for Newton-Riley.
A veteran of improvisation, she honed her skills with famous improv troupe The Second City.
"Second City is a great training ground," Newton-Riley says. "Doing eight shows a week, a lot of improv sets, you're trained to move quickly, think quickly."
She also performed with prominent theater group Green Mountain Guild. She participated at the same time as Meryl Streep, though they were in different groups of players.
"I saw her at a couple of group picnics. She was stunning then, and she's stunning now," Newton-Riley recalls.
On top of that, she worked as the only female writer for "Candid Camera" for eight years, and even garnered a Chicago Emmy writing for a Chicago PBS show.
That's not all that makes Newton-Riley right for "Catechism."
She grew up in an Irish-Catholic family, including an aunt who was a nun, and attended Catholic school.
"I went to Catholic church six days a week," she says. "My mother sees the irony of having all those nuns angry at me when I was a kid, that I would end up doing this."
While this background certainly helps her discuss Catholicism on stage, Newton-Riley emphasizes that religious affiliation or expertise isn't needed to enjoy the show.
All she asks is people bring a sense of humor, and not be afraid to raise their hands.
"We don't make fun, we have fun," she says. "That's the great part of the show." 
"Sister's Easter Catechism: Will My Bunny Go to Heaven?" was a part of the 2016-2017 season.