9/14/2017
Performances and Artists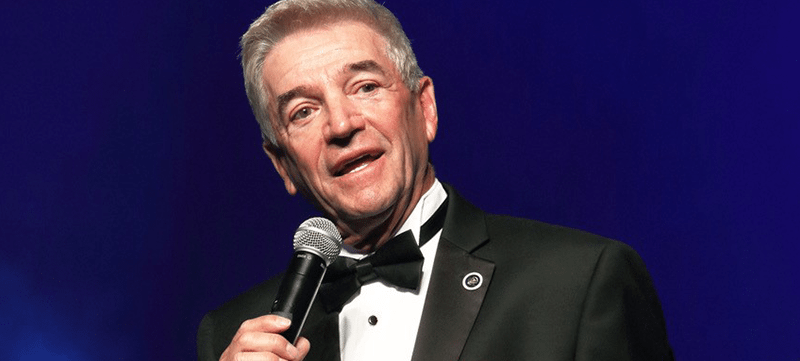 Comedian Tom Dreesen first heard Frank Sinatra's voice on the radio when he was 8 years old, shining shoes in a Chicago bar to help feed his eight brothers and sisters.
"If you said 'showbiz' to me, I thought Frank Sinatra. He was the epitome to me of what live entertainment was all about," Dreesen recalls.
Little did Dreesen know that years later, he would serve as the opening act for the iconic entertainer for 14 years.
During this time, Dreesen became an integral member of Sinatra's glittering, privileged inner circle – all of which he discusses in rich detail during his one-man show, "The Sinatra Stories."
"There are very few people alive today who actually knew the man, and I did," Dreesen says. "He was like a father to me."
Hitting the Big Time
Opportunity knocked hard for Dreesen when he appeared on Sammy Davis Jr.'s talk show in the mid '70s, where Dreesen's stand-up had the singer busting up.
"Sammy said on the air, 'I'm going to take you on the road with me,' and he did," Dreesen recalls.
They toured together for three years — including Dreesen's first performance in Las Vegas at Caesars Palace — with the comedian absorbing Davis' mesmerizing showmanship.
"I watched every night the way he took command of the stage," he says. "It was like going to school."
Dreesen's newfound confidence would come in handy, eventually attracting Sinatra's attention.
"He saw me performing and invited me to tour with him," Dreesen says.
Bonding with Blue Eyes
Sinatra connected with Dreesen immediately, appreciating the comedian's clean act that warmed up audiences of all ages.
The two also shared a connection of raising themselves from humble beginnings, Dreesen adds.
"He would tell people, 'If I'm a saloon singer, and I am, then Tommy's a saloon comedian. We're a couple of neighborhood guys,'" Dreesen recalls. "That was right on. My brothers and sisters and I grew up in a shack, with holes in our shoes."
Flying with Frank
Living in a shack no more, Dreesen enjoyed the luxe life touring the country with Sinatra.
Prior to every show, a limo would pull up to his front door and shuttle him to Sinatra's private jet.
"We'd land in, squad cars would rush us and our limo to the arena, we'd get into tuxedos and do the show," he says.
Dreesen was even invited to stay at the singer's home on many occasions, where he hobnobbed with Sinatra's world-famous guests, including celebrities like Gregory Peck, astronaut Alan Shepard, Jack Llemmon and more.
"Frank never even went to bed until the sun came up, and he wanted you to hang with him," Dreesen says. "I never wanted those nights to end, because there would be Admiral Shepard talking about being the first man in space and landing on the moon, and then Kirk Douglas would talk about being in 'Spartacus.'"
Best of all, he adds, "they all treated me like an equal."
No Regrets
Dreesen's life could have gone a different way, he admits. He passed on many other opportunities in order to continue working with Sinatra.
"I turned down more sitcoms than most comedians get offered in a lifetime," he says. "It would've meant I couldn't fly with Frank anymore."
Of course, it was worth it.
"I might've been a bigger star if I'd had my own TV show, but I wouldn't have these memories," Dreesen says. "In the end, all we have are memories."
"The Sinatra Stories: An Evening with Comedian Tom Dreesen" in Myron's Cabaret Jazz in November of 2017.