11/16/2017
Performances and Artists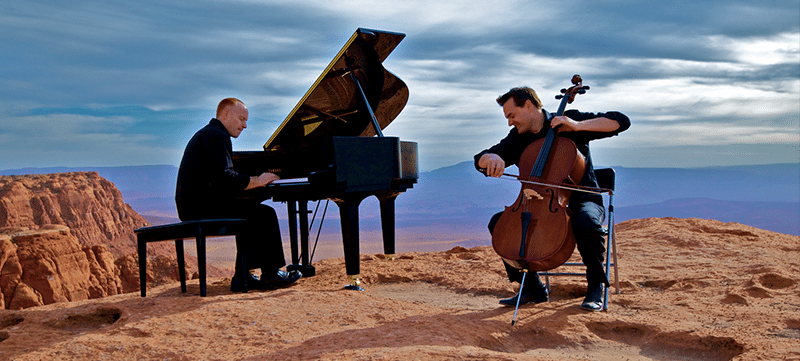 Pianist Jon Schmidt didn't think much would happen, when he agreed to shoot some amateur music videos with his pal Paul Anderson several years ago.
"It started off with just returning a favor to him," recalls Schmidt, who in his years as a solo performer had borrowed instruments from Anderson's Utah piano shop, The Piano Guys. "Paul was always really good to me as far as providing pianos, so I figured I would shut up and film some stuff."
Little did he know, this would lead to amassing a global fan base and a record deal with Sony.
An amateur videographer, Anderson proposed filming Schmidt playing the shop's pianos in unusual outdoor settings, which they would post on Facebook and YouTube.
The initial videos, capturing Schmidt's fun contemporary style, yielded such tremendous engagement that Schmidt suggested they also include a promising cellist he knew, Steven Sharp Nelson.
His hunch paid off.
"The video (we shot with Nelson) went viral," Schmidt recalls. "At that point, we were like, 'We can probably go into business doing this.'"
It helped that Nelson also had a friend, Al van der Beek, who had both a knack for arranging and a recording studio in his basement.
"We pulled him in, and all of a sudden we had everything we needed to make a $30,000 video in-house," Schmidt says. "It all hit at the right moment in time in the early days of social media."
From YouTube to Record Deal
To say the collaboration was successful is putting it mildly.
Since these four artists came together, their group The Piano Guys has created more than 65 original music videos, generating 1.2 billion views on YouTube.
The group's high-octane, genre-defying medleys combine classical and pop tunes, spanning hits by Ed Sheeran, Imagine Dragons, Christina Perri and more.
"We're just having fun, and people are enjoying it," he says.
Encouraged by this response, Anderson closed his piano shop in 2011 so the band could pursue recording and performing full-time.
Sony signed the group soon after, leading to the release of several successful albums and an international tour schedule, including Carnegie Hall.
"It's really surprised us to see these videos go into the world and within a couple of years, we're able to show up in any part of the world and people recognize us," Schmidt says.
The only downside is the band had to stick with the name The Piano Guys, once it quickly became a household name.
"It's really sad for Steve, because he's a cellist and we're The Piano Guys," Schmidt sympathizes.
An Approach Like No Other
With the combination of one pianist, one cellist and four outrageous minds, The Piano Guys has created a zany, exuberant performance style unrivaled in instrumental music.
The group's kooky concoctions include a cover of One Direction's "What Makes You Beautiful" played with 10 hands, and an intense mash-up of Vivaldi's Winter with "Let It Go" from hit Pixar film, "Frozen."
Beyond performing music that appeals to the group's collective 16 children, the artists just want to share something uplifting, Schmidt says.
"I just feel really fortunate to have four guys with super creative minds," he says.
The Piano Guys performed as a part of the 2019-2020 season.