6/10/2019
Broadway Las Vegas / Performances and Artists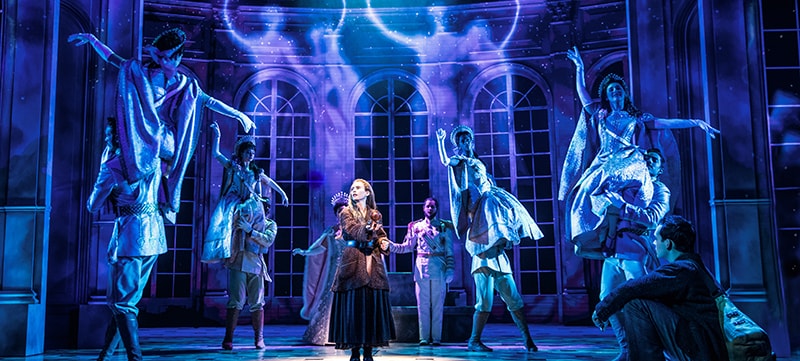 Hit Broadway musical "Anastasia" not only tells a story of epic proportions — the production also promises mesmerizing theater magic audiences haven't experienced before.
Based on the popular 20th Century Fox animated film, surrounding the famous myth of missing Russian princess Anastasia, this acclaimed Broadway production has made headlines for elevating the story to a groundbreaking level of theater.
"We have a lot of surprises up our sleeves," assures Darko Tresnak, the Broadway production's director.
Much of this stems from the production's settings, spanning the severe, early Soviet Union and sumptuous 1920s Paris.
With these in mind, the show's creative team dived into delivering breathtaking visuals and music with exacting historical accuracy.
The result is a production rife with lavish costumes and whimsical, original songs, all fashioned from international influences.
The musical even offers immersive visual effects unprecedented in theater.
Smith Center audiences will experience all of this and more from August 20 to 25 with the production's first-ever national tour, fresh off the Broadway stage and following two Tony nominations.
"This show couldn't have happened two years ago," says Scenic Director Alexander Dodge of the production's innovative approach.
Settings with Endless Potential
The show's settings alone will sweep audiences into dizzying worlds of drama and delight.
"Act one begins with the end of an old regime, and that society transitions into a very oppressive society — modern Soviet society," says the show's writer, Terrence McNally. "Then in the second act, they go to Paris in the early 1920s, where the arts and liberalism is exploding."
These contrasting perspectives, he felt, made "a wonderful pair of bookends to tell our story."
These locations also gave opportunities for sensational costuming, resulting in the show's Tony nomination for Best Costume Design.
Costume Designer Linda Cho found no shortage of stunning styles for these eras, she says, including a "lightweight" and "springtime" aesthetic reflecting the lively Parisian lifestyle.
She especially drew inspiration from the Russian royal family, such as how Tsarina Alexandra Romanov wore ballgowns covered in diamonds.
"It would've been worth millions," Cho says. "It was important for me that the royal family (in the show) was this beautiful, crystallized, almost ghostly presence."
Groundbreaking Visual Effects
Audiences at "Anastasia" will find themselves fully immersed in the world on stage.
That's due to massive LED screens embedded across the stage's back wall and in turn tables on the sides.
Throughout the production, these screens project massive moving images, including a glittering sea of Parisian lights and specter-like couples swirling in dance.
"It gives a vast variety of looks," Dodge says. "The technology has finally caught up to where we can manipulate and integrate it."
New Music Borrowed from History
The production's new, original music fully supports the show's commitment to history.
Music-and-lyrics team Stephen Flaherty and Lynn Ahrens took inspiration from titan Russian composers such as Tchaikovsky and Prokofiev for melodies in the Soviet scenes.
Likewise, they embraced giddy jazz rhythms to paint a musical portrait of 1920s Paris.
"We got to go crazy, because (the city was) going into this completely new and modern jazz age," Flaherty says.
While the musical also includes tunes from the animated film, Ahrens enjoyed crafting new melodies for the show's expanded elements of romance and adventure.
"The challenge and beauty of writing for the stage is writing songs that tell the story," she says.
Hit Broadway musical "Anastasia" was a part of the 2019-2020 Broadway Las Vegas season.