6/22/2018
Inside the Theater / Community Impact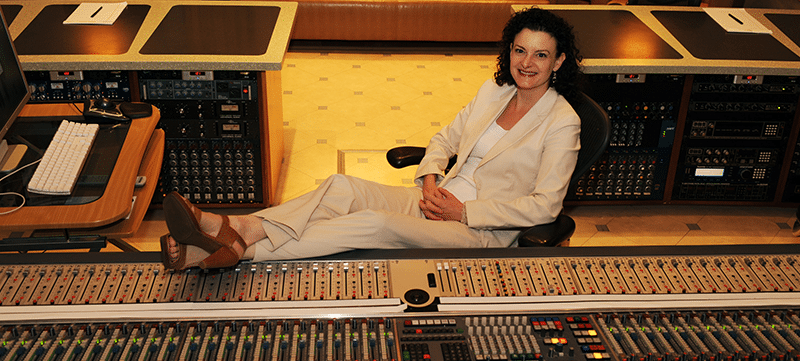 By: Zoe Thrall, Director, Studio at the Palms
Many might not be aware, but the Palms Casino Resort houses an impressive, 8,000-square-foot recording studio where some of the biggest names in music have recorded their greatest hits.
Managing the Studio at the Palms keeps Director Zoe Thrall more than occupied — but fortunately, she has a long career in the music industry to draw from.
Enjoy Thrall's guest blog below about how her past career helped prep her for this unique role!
I was recently contacted by my old boss… I mean my boss from 27 years ago. Other than to say hello, what could he want? He told me he was putting together a box set of all his solo album releases, and wanted to know if I had any archives lying around.
You see, my old boss is Steven Van Zandt, well known as Bruce Springsteen's side kick – and maybe best known as Silvio Dante from "The Sopranos." I had worked for him for 11 years first as an audio engineer, then a band member (Little Steven and the Disciples of Soul), and then later in management.
I knew I had some archives in storage, but I hadn't really thought about them or even casually come across them in years. This would take some digging. So early one Saturday morning, I headed out to the storage locker to see what I could find. I started pulling boxes out. One was labeled "tour stuff," another one "photos," and yet another one "Reviews and Press." Hmm, good start. I was hoping that I wasn't just good at labeling boxes, and that there were actually some musical treasures packed away!
I proceeded to open "tour stuff" and found some great things: tour passes from all over the world, tour itineraries, show contracts, equipment lists and other documents related to the years we were on the road. Wow, I was shocked I still had some of these things, and even more surprised that they were in excellent condition!
The photo box contained amazing tour photos, candid photos from rehearsals, press photos, photos from recording in the studio, album photos, everything you can think of to document such an amazing road to success that we experienced as a band. Then I got to the "Reviews and Press" box. I really should have been more descriptive in my labeling, as I uncovered hand-written lyric sheets from most of Steven's five solo albums, as well as lyrics from songs he wrote for other artists. Not only did these boxes contain history, but items now perfect for a box set!
Why am I telling you this? Well, you never know where life takes you. These notes of my past were so indicative of my future, but of course at the time, I didn't know it! I can honestly say that everything I use today in management of Studio at the Palms, I learned from rock 'n' roll.
Looking at these musical archives reminded me of how I ended up in Las Vegas running this world-class studio for the last 13 years. You see, this wasn't just memorabilia. It was a look into how much hard work, networking, long hours and sacrifice it took to gain the knowledge I had from both an artist and studio side of things, and which led me to eventually get noticed by a casino owner in Las Vegas, of all things! 
Did I ever think I would live here and run a recording studio out of the Palms Casino Resort? Of course not! But I'm so glad I do. Let's see what the next 13 years bring!