10/23/2017
Performances and Artists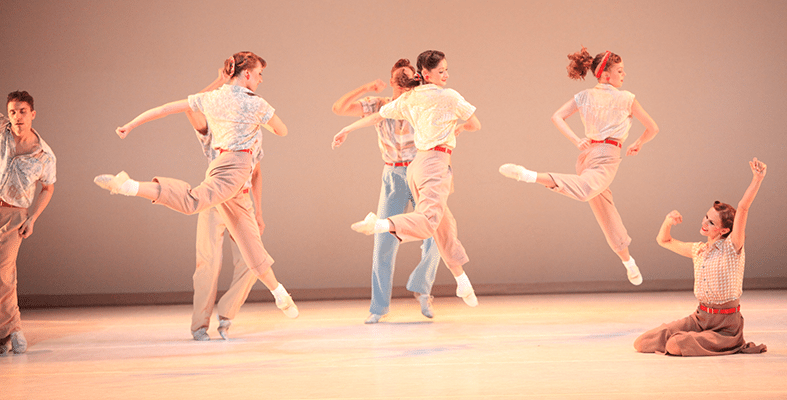 By: Rachel Berman, Repetiteur for "Company B" with Nevada Ballet Theatre
When the curtain rises on renowned choreographer Paul Taylor's 1991 masterpiece "Company B," the dancers emerge like a memory from the darkness, transporting the audience to a bygone era. For many, the unmistakable harmonies of the Andrews Sisters, flashes of the Lindy Hop and other social dances will be reminiscent of the 1940s, a time of turmoil and patriotic optimism. Others will respond immediately to the sheer exuberance of the toe-tapping, hip-wiggling songs. Though the grounded Taylor style may be foreign, the dancers of Nevada Ballet Theatre (NBT) are going to have a blast performing this work on November 11 and 12 at The Smith Center!  For me, a former dancer with the Taylor company, it's like watching home movies filled with ghosts of people I love.
Watching "Company B" summons memories of each moment our company members spent creating the work, bringing it to life and indelibly stamping our personalities onto the "characters."  It also raises memories of our New York City premiere, when Paul and Maxene Andrews of the Andrews Sisters broke into a jitterbug on stage. This was a dose of Americana we performed around the world, dancing for the Queen of England (I have a picture with her backstage in white gloves and tiara greeting us in our sweaty "Company B" costumes), on a state department tour of India, at the Paris Opera House, and so many other incredible locations. We filmed the piece for PBS's "Dance in America" series and performed selections at the Kennedy Center Honors (also filmed for TV) when Paul received the distinguished award from President George H.W. Bush (we met a lot of celebrities that night — Aretha Franklin, Robert Redford and Gregory Peck among them). Revisiting "Company B" makes me realize there are too many stories to tell here and that it has been a part of my life for a long, long time! I have had the sole distinction of performing — at one time or another — every female role in the work, and have re-staged it for three different ballet companies. Getting a chance to work with the dancers of NBT, in my new home of Las Vegas, allows me to pass on the joy dance has brought me.
"Company B" was commissioned by The Kennedy Center and a collection of companies that included Houston Ballet. It has now been danced by over 40 ballet companies around the world and is still active in the Taylor repertoire. Paul, a prolific and often commissioned choreographer (146 dances to date), does not create work for unfamiliar dancers. He made this work to showcase his new crop of dancers. Within a couple of years, seven of us — out of 16 — were new to the company (I joined in 1989 and stayed for 10 years). This marked a changing of the guard as the older dancers, those I admired as a student of modern dance, my teachers and mentors, retired. We were young, eager and ready to make our mark. Paul tapped into our youthful exuberance by juxtaposing it with images of loss and despair. The New York Times wrote that "Company B" is about, "humans at large and Americans in particular." My original part was the "solo" girl in the sextet "Joseph, Joseph" who grieves over the loss of a soldier. My performance in the duet, "There Will Never Be Another You" is the one immortalized on the PBS special.
Aside from my own memories of performing this dance, one of the proudest moments I have had  — and I cannot take credit — was seeing my goddaughter dance MY original role with American Ballet Theatre. Her mother and I danced together in the Taylor company, and the two of us cried like babies watching her at Lincoln Center!