10/12/2017
Community Impact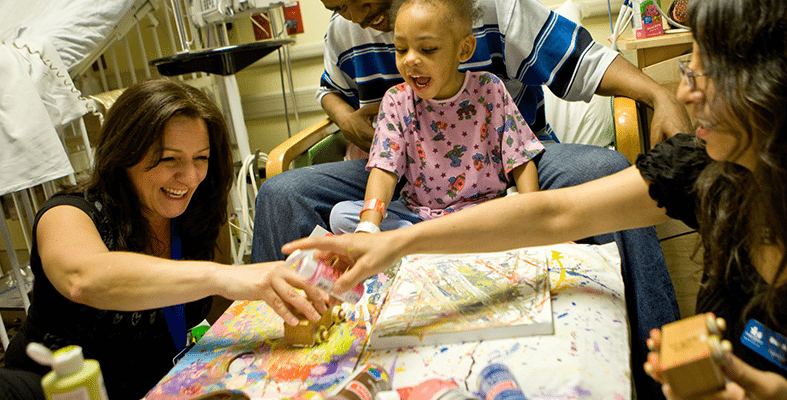 When Diane Mifsud joined a church program supporting children with cancer years ago, the last thing the professional artist expected was to bond with Tamera, a young girl fighting a losing battle.
"After getting to know her and her mother, I fell in love with her," the Las Vegas resident recalls. "I stayed with her during her journey and battle through cancer."
Following Tamera's final days at the hospital, Mifsud felt compelled to support more children who face the same intense and overwhelming experiences.
"I thought, 'What can I do to support these beautiful children in the hospital?'" recalls Mifsud, a painter in Las Vegas for more than 20 years.
So sparked her idea to found nonprofit Project Imagine, an arts-in-medicine program providing enriching arts experiences for hospitalized children in Southern Nevada.
Since its creation in 2010, the nonprofit has conducted in-hospital artistic sessions with over 1,500 children.
"Tamera definitely inspired the program and brought me to a very intimate place with families going through the same thing," Mifsud says.
Arts Helping to Heal
Project Imagine's approach is simple.
The nonprofit arranges for community artists to visit Summerlin Hospital Medical Center and Sunrise Hospital & Medical Center twice a week, where they engage pediatric patients in creative projects spanning art, music, dance, theater and literary exploration.
While the program initially focused on child oncology patients, it has expanded to include all hospitalized children.
"It's all about empowering the children by letting them choose the materials or language they want to use to express themselves," Mifsud explains. "There is so much fear associated with children being isolated in a hospital room, and just being creative gives them this voice and this outlet."
Participating children have enjoyed painting, drawing, writing stories and poetry and playing percussion instruments.
Research supports that artistic activities help release stress, anxiety and feelings of isolation during medical treatment, Mifsud notes.
She sees this firsthand, when children's faces light up each time the nonprofit's artists pay a visit, she adds.
"They look forward to these sessions," Mifsud says. "It's something they depend on. It's a way to escape their circumstances through the power of their imaginations."
Building Relationships
With some participating children enduring hospital stays up to 10 months long, they build strong bonds with the nonprofit's artists, Mifsud says.
"When you have a consistent program like this, you build an intimate relationship with the family," she says.
She has seen artist visits make a significant impact.
She personally recalls helping one young oncology patient prepare for a frightening bedside procedure by distracting him with writing a book about a chocolate mountain.
"(When it was time for the procedure), we told him, 'As soon as this is done, we'll go back on that chocolate mountain,'" Mifsud remembers. "He was very anxious, and this was a beautiful distraction through the imagination."
Plans to Expand
Mifsud hopes to expand Project Imagine to hospitals throughout Southern Nevada.
She welcomes public support, including art supplies donations.
Community members can get involved by attending the nonprofit's first annual ARToberfest fundraiser with music, dinner and a silent auction from 6 to 10 p.m. on Saturday, October 14 at Domsky Glass in Las Vegas.
For more information, visit: www.projectimaginelv.org.