5/5/2017
Performances and Artists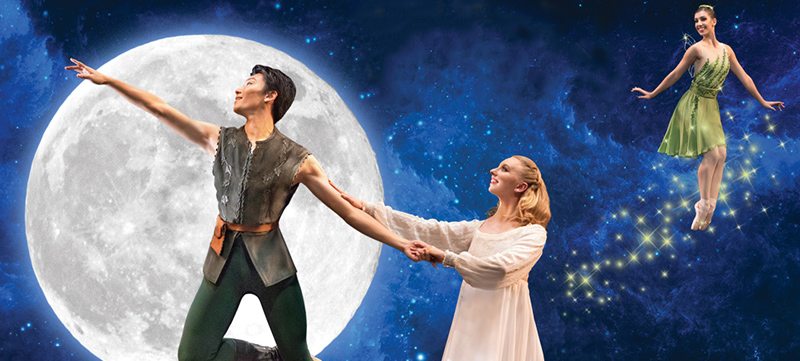 Tara Foy, ballet mistress with Nevada Ballet Theatre (NBT), has a simple explanation of how dancers in the company's "Peter Pan" production fly above the stage.
"Magic and fairy dust," Foy says with a chuckle.
In truth, extensive preparation, equipment and teamwork are involved with helping these storybook characters take flight.
No one knows this better than Foy, who has provided theater aerial effects for shows and celebrities around the world, including Paula Abdul, during her previous work with renowned effects company Flying By Foy.
"Flying definitely enhances a production," says Foy, also a former ballerina who herself performed as Tiger Lily in "Peter Pan" on London's West End. "It's just a wow factor. It brings a great energy to the audience. It gets people on their feet."
Aerial effects are featured throughout NBT's production about the boy who wouldn't grow up, with dancers lifted more than 25 feet in the air for scenes such as the flight to Neverland.
To soar above the stage, each dancer is secured in a custom-made harness that attaches to wires, which are connected to a hangar on a track system above.
Expert technicians called flying directors and flying operators wield heavy ropes through a series of pulleys and pendulums to hoist the dancers into the air.
Having an operator manipulate the flight of each performer is important for adjusting to any unexpected issues, Foy explains.
Dancers must exercise caution by sticking as close to rehearsed movements as possible. They must also position precisely on designated marks on stage before being lifted, so their wire is directly above them to minimize swinging.
"It's imperative the dancer gives a physical cue, a big gesture, for the flying operators to see before the actual flying action happens," Foy says. "The idea is to be as effortless as possible and make it look really easy, so the flying operators must be in tune with their dancers and vice versa."
Preparing dancers for flight takes time, she adds.
The dancers initially get accustomed to launching in the air through practices at the Flying By Foy studio in Las Vegas.
This follows with extensive practicing on stage.
"Once we're in the actual theater, we need to utilize all the time we have for dancers to get climatized to their new surroundings," Foy says. "The flying operators need to know where they need to be and that their sightline is never, ever blocked."
When it comes to shows with flying involved, Foy has found it essential to cast strong performers who can fully control their movements in the air.
And, of course, who aren't afraid of heights.
"It's demanding, so they have to be very in tune physically and mentally," she says. "When you're high in the air and everybody can see, it really is the best feeling in the world."