4/2/2018
Education and Outreach / Community Impact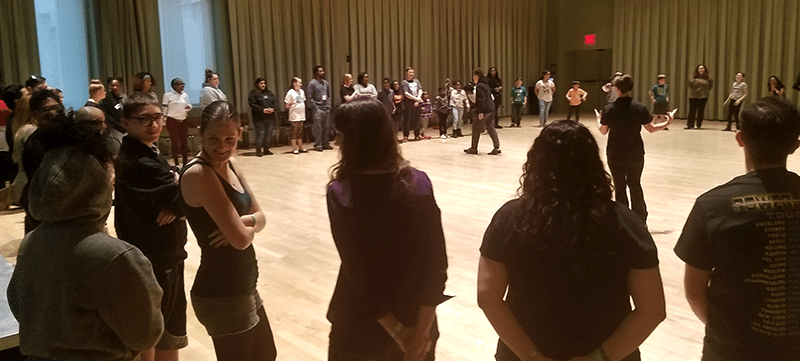 Separated for years from her siblings when they were raised in separate foster homes, Laura Goen knows better than most how important quality time can be.
"Just getting to see them is the best thing that could happen," she says.
That's why Laura was eager to experience a recent arts workshop and show The Smith Center offered for children who are residents at Southern Nevada's St. Jude's Ranch for Children, which provides therapeutic residential treatment for abused and neglected children. The event also included children living in foster care who are separated from their siblings.
A total of 70 youths and staff from St. Jude's Ranch and its Child Focus program participated in the event, which included a dance and theater workshop, dinner and tickets to celebrity zookeeper Jack Hanna's live show, "Into the Wild Live!"
A nonprofit, The Smith Center provided these experiences at no cost to participants, thanks to a grant from the Nevada Arts Council.
Laura, now 22, was thrilled for the chance to enjoy a day of all-new experiences with her 15-year-old brother Shaun and his two adopted siblings, who are 17 and 14.
"Honestly, we just love the fact we got to see each other and do fun things with each other," says Laura, who volunteers at St. Jude's after relying on the organization throughout her teens. "The fact that The Smith Center made that happen for us is a really great thing."
A Rare Introduction to the Arts
During the workshop, the youths from St. Jude's wore wide smiles as they explored different animals through theater games, including learning choreography and performing their own stories with costumes and props. 
Most of them hail from troubled families and wouldn't likely have access to The Smith Center otherwise, says Christina Vela, executive director with St. Jude's.
"This gives these children opportunities to build new childhood memories," Vela says. "We can never replace the tough times they've had in their lives as victims of abuse and neglect. But if we can help create new memories, then they can reflect on those times, like 'I got to go to The Smith Center, and I met someone at a workshop who made me think I could be an artist or a singer.'"
After the workshop, the youths enjoyed Jack Hanna's show at The Smith Center, with live exotic animals brought on stage.
"My brother got so ecstatic, he was very happy to see animals he's never seen before," Laura says. "I thought it was fantastic that all these siblings got to do something fun and silly together, rather than sitting in a room for a visitation, which is normally what siblings (in the foster system) get."
A Day Without Worry
Gloria Jarvis, family support specialist with St. Jude's, said she was elated to see these youths enjoy a chance to act their age and be creative.
"A lot of the times, these kids have a lot of worries. They worry about their parents, they worry about their siblings since they're not in the same home as them," she says. "It's nice to see them being creative and collaborating with another and what they can come up with, letting them have control over the situation."